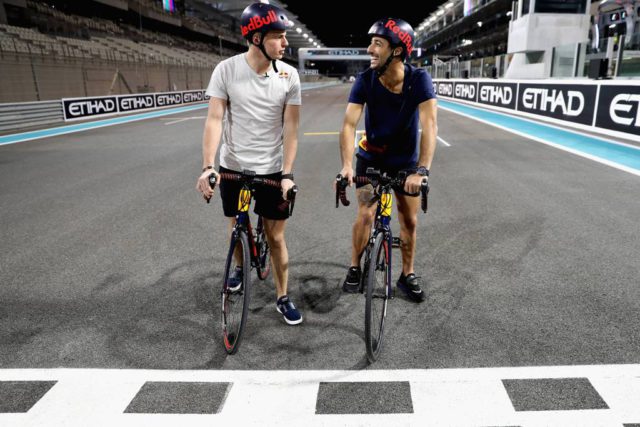 On the Sofa has returned for another year with Daniel Ricciardo and Max Verstappen chewing the fat on the past year behind the wheel of the RB13.
As they peppered each other with questions, the subject matter was as diverse as ever ranging from the highs and lows of the 2017 season to Daniel's bowel movement and Max's phobia of spiders.
Red Bull picked out six of the best from this year's On the Sofa…
Christmas is coming
On whether Max will receive a Christmas card from Ferrari drivers Sebastian Vettel and Kimi Raikkonen this season, he says: "I received one from Seb last year so I'm expecting one this year."
As for Kimi, he adds: "I don't think I've ever had a conversation with him. On the podium when there he's 'I don't really care, I do what I want. Leave me alone, I know what I'm doing'."
Of getting into the Christmas spirit, Daniel counters: "Sending Christmas cards to other drivers seems a bit…I don't know, I'd rather do something else with my time."
Hooked on FIFA
Both drivers were asked what new skill they'd like to acquire next year. For Daniel, it was straightforward: "I'd love to be able to ride a dirt bike better. I've always been interested in jumps and having control in the air, flying through the air and not being freaked out."
Max, meanwhile, simply wants to be a better FIFA player on his games console and admitted he spends a lot of his off time both during the season and in the off-season honing his skills.
The Flying Dutchman is clearly not a good loser judging by the fact he admitted to once throwing a controller of the balcony of his Monaco apartment when he lost. "Almost every day I'm on FIFA. It depends who's with me. In a day, it can be four or five hours, in sessions."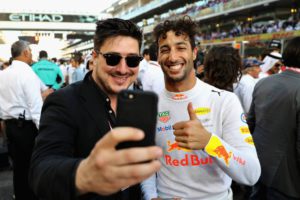 No more Mr Nice Guy?
Famed for his ever-smiling outlook, could Daniel be on the cusp of changing that for next season?
Asked to name the worst thing about himself, he says: "The only thing I will say is that… and there are 99% more good things that come out of this than not, but the 1% of my personality, because I am pretty easy going, happy and fun, I feel sometimes some people try and take advantage of that."
"That's the only thing where being nice has its downsides. I sometimes notice it, and it kind of upsets me but it is a very small percentage."
The best of friends
Formula 1 has been renowned for some bitter rivalries at teams past and present but the Red Bull Racing duo enjoy the novelty of a good relationship.
Daniel admits it is to the bemusement of those in other teams: "Lewis [Hamilton] said after a race once – we were joking around – 'how do you guys get on so well, I've never seen this?'. I think we acknowledge we're super competitive but we have respect so that makes a good balance. If we were against each other, the car wouldn't have improved as it has this year. I'm sure they understand and respect that."
Max claims the relationship has been "even better" on and off track in 2017, to the extent that team boss Christian Horner described it as the best driver pairing in F1.
"I believe it," says Daniel. "I think we've shown it and proved it. We're the two drivers that are making the most aggressive moves on track, most exciting races, coming through the pack. It sounds arrogant but nine times out of 10 it's us."
It's not all been completely smiles this season, though, with Max taking out Daniel at the Hungarian GP but the Australian explains how they quickly made up. Now it's something they can laugh about.
"You came up and apologised to me, and we spoke privately," reveals Daniel. "That was really important for both of us. I think you went about it the right way, which made it easier to move on. People make mistakes. It's frustrating but things happen."
Best and worst moments of the season
For Max, the best moment that stands out is Malaysia, the scene of his first victory of the season coming the race after being taken out in Singapore by the two Ferraris.
"Singapore was so painful to retire so early," says Max. "To win Malaysia was the best moment emotionally."
He likened the previous night race as a "Singapore sandwich made up of "mozzarella, tomato, basil, balsamic vinegar and German cheese that didn't taste well!"
But for his worst moment of 2017, it was still trumped by Baku, where he endured a weekend full of problems.
In contrast, Baku was the season high for Daniel, while his worst moment of the past campaign came at the very opening weekend in Melbourne.
Expectations for 2018
Daniel explains: "I'm going to keep my level of optimism but if you expect too much of something, you get disappointed. I do think the car will be pretty good next year. Before the season started, I expected more, once the season started, we got more."
As for reflections on 2017, Max adds: "It's been quite a challenging season to see how I would react to those things in the season. Thankfully towards the end of the season, everything started to be a bit better for me."
As for how they'll see out the year, Daniel is off to Australia to spend time out of the spotlight with friends and family while Max has his sights set on sleeping, skiing and spending time with friends.
A Holiday card from us to you! 🎅🎄 #givesyouwings pic.twitter.com/F41slsJwN2

— Red Bull Racing (@redbullracing) December 20, 2017