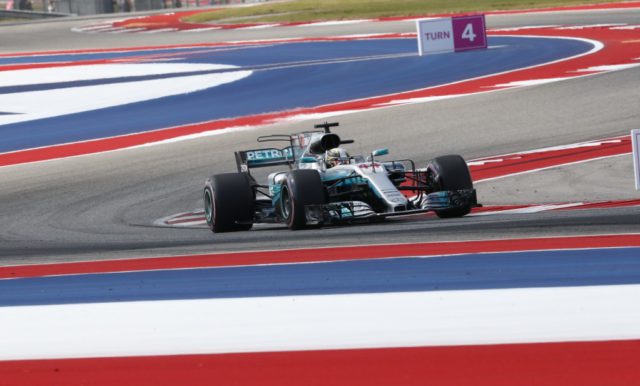 Lewis Hamilton won the United States Grand Prix to edge closer to a fourth title, regaining the lead from Sebastian Vettel after falling behind at the start. Mercedes meanwhile secured the Constructors' crown.
Hamilton started from pole position at the Circuit of the Americas. But he lost out to Vettel on the run to Turn 1. The title rivals almost clashing as they fought for position.
Vettel controlled the early stages, before Hamilton regrouped and mounted a challenge, moving back into the lead with a clean DRS-assisted pass on the back straight.
Hamilton stayed ahead for the remainder of the race, as he and Vettel ran different strategies, to record his fifth victory from six races at COTA, and sixth at the USGP.
He will head to the next round of the season a whopping 66 points clear of Vettel, with only 75 up for grabs over the races in Mexico, Brazil and Abu Dhabi.
Max Verstappen, who started towards the back of the grid with an engine penalty, snatched third from Räikkönen with a bold move on the final lap.
But he was promptly given a five-second time penalty for leaving the track and gaining an advantage, meaning Hamilton, Vettel and Räikkönen made up the podium.
As the lights went out, in dry and hot conditions, second-placed Vettel made a rapid getaway to pull alongside Hamilton and held firm as they entered the first corner.
Vettel, confident in his race pace, initially pulled a gap to Hamilton, as Valtteri Bottas and Daniel Ricciardo went wheel-to-wheel over third position.
Hamilton, though, upped his pace as the race settled down, getting within DRS range and pulling a move on Vettel along the back straight to reclaim top spot.
After this, the lead strategies diverged. Vettel was going for a two-stop (Ultra Soft, Soft, Super Soft) and Hamilton completing a 1-stop (Ultra Soft, Soft).
Hamilton rejoined narrowly ahead of Vettel after the first round of stops, querying Mercedes' approach over the radio. Lewis built up a comfortable advantage. But he came second only in the closing stages, as various strategies unfolded.
Bottas held the position for the majority of the race, after Ricciardo retired with an engine issue. Vettel dropped back into the pack on his two-stop plan.
But he got jumped by Räikkönen, who made a sublime move at Turn 12. Later he lost out to Vettel and the recovering Verstappen in quick succession.
Bottas then suffered a huge lock-up and made an extra stop for Ultra Softs, in order to preserve 5th.
Vettel received second by team-mate Räikkönen shortly after passing Bottas. But he could not catch Hamilton. He lost seven more points in the title battle.
Mercedes also secured the Constructors' title as Ferrari failed to pull of a 17-point swing.
INITIAL CLASSIFICATION: @LewisHamilton extends his lead in the championship@Max33Verstappen demoted from P3 to P4#USGP ?? pic.twitter.com/a5f1t7fjvO

— Formula 1 (@F1) October 22, 2017