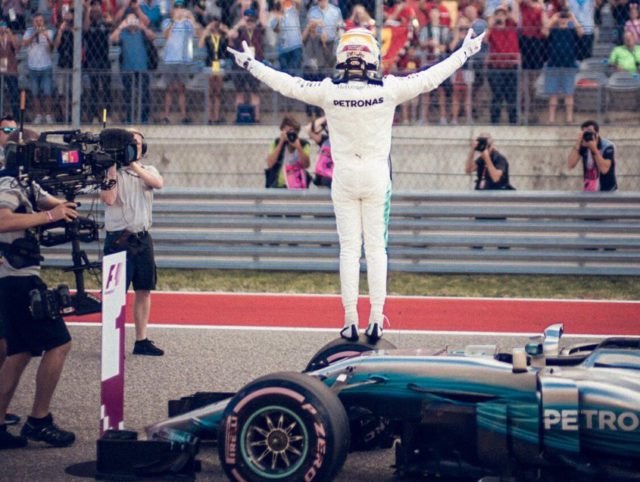 Lewis Hamilton reckons it is "highly unlikely" that he will secure a fourth world title at the United States Grand Prix, given Sebastian Vettel's recovery. Hamilton has topped every session at the Circuit of the Americas so far this weekend, producing another new lap record – 1:33.108 in qualifying.
Vettel, 59 points behind Hamilton in the standings, had a troubled start to the event, taking on a new chassis after balance issues through Friday practice. But he recovered over the course of Saturday's action to emerge as Lewis nearest challenger in qualifying, slotting ahead of Valtteri Bottas.
Hamilton will claim the title on Sunday if he wins the race, with Vettel no higher than sixth, or takes second, with Vettel no higher than ninth, and Bottas not winning, scenarios he does not expect to occur.
"I think it's highly unlikely that that's going to be the case," said Hamilton, when asked about his chances of securing the title tomorrow afternoon. Sebastian did a great job today to bring the Ferrari back up there. All I can do is the best I can, but Sebastian is right there, so unless he makes a silly mistake, which is unlikely, then it will continue on to other races."
Hamilton took his 72nd career pole, which gives him 117 front row starts, beating Michael Schumacher's record.
"The team have done a great job, said Hamilton. The track was very difficult today, with the wind picking up. We had a head wind into Turn 11, a tail wind out of Turn 1; through the fast section at the end of Sector 1, it was a tail wind. And then a head wind into Turn 9.
"It was shifting the whole way through the lap. So you were kind of gauging how hard you can push, but that's why I love this track, it's fantastic to drive."
Bottas, meanwhile, finsihed 3rd, behind Vettel. "We've been making quite big set-up changes through the weekend. They made the car quicker, but it was quite tricky to drive," said Bottas. I'm definitely disappointed, it was looking good for us, but there's always tomorrow."