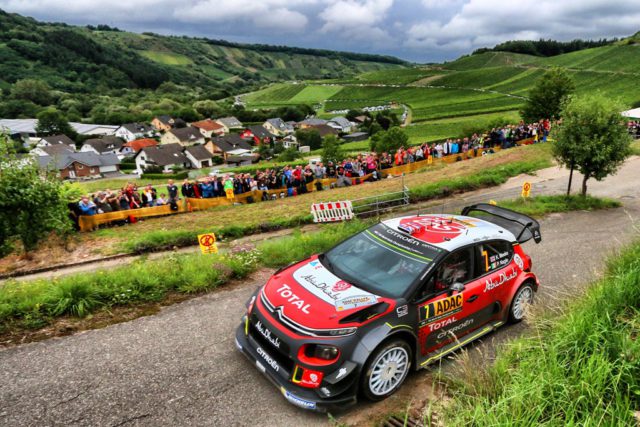 Kris Meeke/Paul Nagle, Stéphane Lefebvre/Gabin Moreau and Khalid Al-Qassimi/Chris Patterson will be the Citroen crews for RallyRACC Catalunya – Rally de España (5-8 October), the French team announced.
In Spain to take part in recce, Craig Breen/Scott Martin will then contest the last two rounds of the season. These are Wales Rally GB (26-29 October) and Rally Australia (16-19 November).
Citroen also wished Andreas Mikkelsen and Anders Jæger the best of luck. The Norwegians will be making their debut for Hyundai after contesting three rallies in the C3 WRC.
Obviously @Craig_Breen's fans will be disappointed that he's not competing at @RallyRACC, but he will do @WalesRallyGB and @RallyAustralia

— Yves Matton (@Yves_Matton) September 5, 2017
Yves Matton, Citroen Racing Team Principal:
"As a mixed surface event, Rally de España matches the qualities of the C3 WRC pretty closely. We hope we can be among the frontrunners again. Quick on both gravel and tarmac, Kris Meeke will hopefully be able to build on the confidence he acquired during the second leg in Germany."
"Stéphane Lefebvre, whose involvement was announced several weeks ago, will also be looking to confirm his progress. Lastly, Khalid Al Qassimi will be driving the third C3 at a rally that he particularly enjoys."
"Obviously, Craig Breen's fans will be disappointed that he is not competing in Spain. But I have to contend with budget restrictions that mean we can't enter any more cars. At the start of the season, Craig's programme was planned over eleven rallies. We considered, in consultation with Craig, that it was preferable for him to be competing in Wales and Australia instead."
"I would like to congratulate Andreas Mikkelsen and Anders Jæger on securing a new drive for next season"
"I really enjoyed working with them. And it's a good thing for the WRC that they are back in the championship full-time. Andreas was one of the options we considered when working on our driver line-up for 2018. But when it came to making a final decision, we decided not to pursue it."
Congratulations to @AMikkelsenRally for his new drive. He was one of the options we considered for 2018, but we had to set priorities #WRC pic.twitter.com/sLdJHqhDTr

— Yves Matton (@Yves_Matton) September 5, 2017