Ferrari took second place in its home Italian Grand prix which was quite a disappointment for the Scuderia. Sebastian Vettel clashed with Lewis Hamilton at the beginning and dropped to the back. Kimi Raikkonen led for the bigger part of the race but his tyres went off and Hamilton passed him.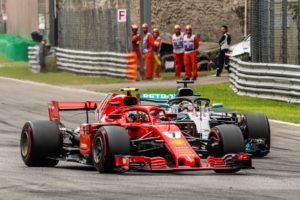 Kimi Raikkonen
Our car was really good. The first set of tires was ok, while the second one didn't last as long as we had expected. There wasn't much we could do, we had to push all the time and there was no single moment in which we could take it easy and look after the tires. For sure we wanted a better result, but this is what we've got; we did our best but it was not enough. It's easy to say what we should have done in an ideal world, but we did what we thought was right and I think there was nothing wrong. Second position is not ideal, but we take it; I think that we were lucky to finish the race, on the rear left tyre there was no rubber left. In the next races, it's going to be close pretty much everywhere. We keep doing our best and hopefully, it will be enough for when we come to the last race.
Not the result Kimi Raikkonen or @ScuderiaFerrari were hoping for at Monza…#ItalianGP ?? #F1 pic.twitter.com/KqTCKbdr1i

— Formula 1 (@F1) September 2, 2018
Sebastian Vettel
At the beginning, I tried to overtake Kimi in Turn 1 and 4, but I couldn't. He opened the brakes, which he had the right to do, so I moved aside and opened a gap to Lewis. Then I had room left and no chance anymore. So, when I touched Lewis, I span around and that was unfortunate, as my car got quite some damages. It could have gone differently, but obviously, it wasn't the case. Unfortunately, our race was compromised and it was a shame, but then I tried to do my best and had a decent recovery from the back. All in all, it could have been even worse. It's disappointing of course because we had the pace and we definitely could have won. There are many points to win back now in the championship, but we still have time to improve and we have the margin to recover. I am sorry for our tifosi because they just deserved a different result.
Vettel ? Hamilton

Discuss… #ItalianGP ?? #F1 pic.twitter.com/XFAMIaNyEh

— Formula 1 (@F1) September 2, 2018