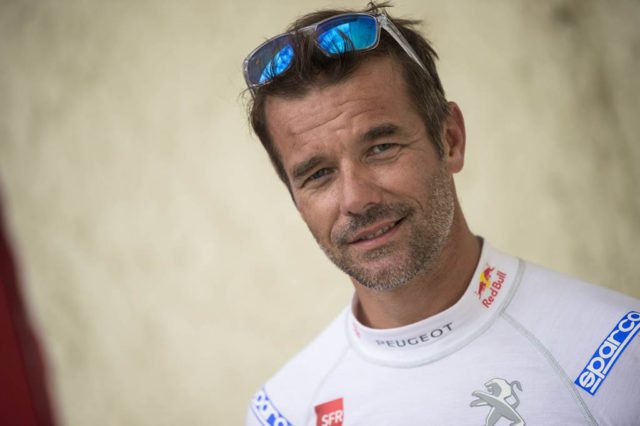 With nine wins on Rallye Deutschland – eight of them consecutive – Sebastien Loeb has set records on this weekend's round of the World Rally Championship. The most successful driver in the whole history of the sport told Red Bull Media House about his predictions, memories and expectations from the German round – as well as what he's up to during the next few months.
SL: "I have no idea! Maybe Thierry Neuville, because he seems to be the driver who is most on form at the moment – leaving aside Finland – but you can't discount Sebastien Ogier, because he's normally very good in Germany. One of those two: I can't decide which. Obviously, with the championship as it is, they're both going to be pushing really hard."
What is the biggest key to success in Germany and the biggest challenges?
SL: "You've got to understand the changes in grip and the changes in road surface and character. It can change a lot, very quickly, and the most important thing is being able to anticipate that. If you can do that, it's a real key to success. The biggest challenge is just to stay on the road, especially if it rains, which can happen quite often."
Why did you decide to get involved in the WRC again with testing for Citroen?
SL: "Because the opportunity was there and I was interested to know what the 2017 cars were like. Obviously, this year's cars represent a big change from the cars that I used to drive, so I wanted to see if the sensations and feelings were different. With Citroen, I have a long history and quite a lot of experience, so I think it's an arrangement that suits both of us."
What did you think of the car and can it be strong in Germany this weekend?
SL: "I definitely think that it's a competitive and a fast car, but it's not always easy to drive. In the dry it's good, but it gets trickier in the wet: although that also depends on which compound tyres you are running. The feeling is a little bit like a racing car, fast but unforgiving. Certainly quite different to what we had before but I still have a lot more to discover about it."
What's your programme now for the rest of the year?
SL: "I still have four rounds of the World Rallycross Championship in France, Germany, Latvia and South Africa, as well as the Rallye du Maroc in rally raid and all our other preparations for the Dakar next year; plus some rally testing as well. A busy schedule for the rest of the year, especially in September and October."
Would you consider doing any WRC events again in the future?
SL: "It's not something I would completely rule out, but it's not something that we've spoken about for now either. What's sure is that if I did any rallies again, it wouldn't be for a full championship and it would just be for fun, as I've done from time to time on the French championship, for example.
What's your best memory of Rallye Deutschland?
SL: "My first proper WRC victory there, which was in 2002: you always remember your first win. Since then, I've been fortunate enough to have many nice memories from Deutschland: the podium ceremony is really great and as this rally is close to home, I've always had lots of friends and family come. So many good times, but if I had to choose one, definitely 2002."
What is the one thing that most people do not realise about Rallye Deutschland?
SL: "Just how quickly and dramatically the grip changes, especially when it rains, and especially in the Baumholder military area. Those stages take place on Saturday, so definitely worth watching."
What made you so successful on this rally, in your opinion?
SL: "There's no one particular secret. It's like Rallye Monte-Carlo: you just need to find this feeling with the grip and how the rhythm changes. I've always somehow managed to have this throughout my career, and that's why I've had some good results in rallies like Germany and Monte-Carlo, where conditions are always unpredictable."
What has surprised you most about the 2017 WRC?
SL: "A lot of things have surprised me about this year, especially with the new cars. It's like the order has changed to a certain extent, with some of the established teams seeming to struggle a bit while the new teams are coming up. I think Toyota has been a big surprise and Hyundai as well, which seems to have made a very good car."
#RallyDeutschland history is closely linked to @Citroenracing claiming 11 straight wins in Germany in #WRC – including 9 for @SebastienLoeb pic.twitter.com/73AuHhTEjZ

— Unstoppable by Total (@UnstoppableOff) August 18, 2017