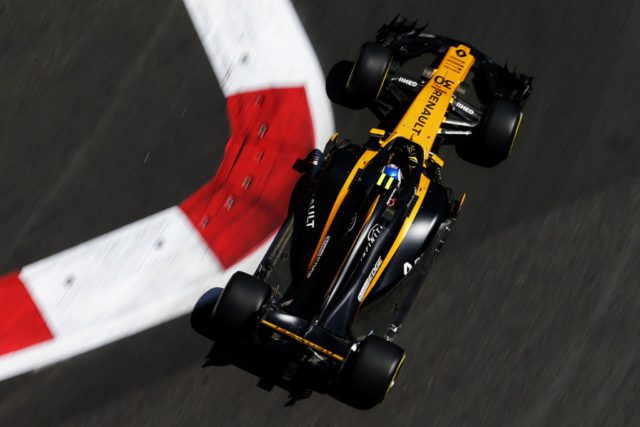 After a weekend of highs and lows in Baku, Renault Engine Technical Director Rémi Taffin looks at the state of play in the Power Unit world.
What can we expect from the Red Bull Ring?
It is quite a power sensitive track and it probably will be in line with Baku in terms of performance expectations. We will consolidate the power improvement made for Baku and aim to deliver more. There is no big plan with brand new upgrades, just continual improvement of the entire package. The altitude of the track will be a challenge as the turbo will spin faster to generate the required induction, so that's something we'll monitor. Experiencing a trouble-free weekend will bring points.
What's the post-Baku debrief?
In terms of performance, we were able to demonstrate on a very power-sensitive circuit that we have made another step forward. This was not through new components, but rather through our continual quest for more power and improvement, concentrating on the details and optimising every element of the package. Nico was fighting to be in the top five when he made contact with the wall, and this was on a circuit with a tremendously long straight and a great appetite for horsepower. It was also good for us to be able to cheer the race winner.
What is also clear is that we did have reliability issues on track; issues which we immediately addressed, but this should not detract from the clear progress which has been made. We have put in place new and better procedures to catch any issues before the cars take to the track and we're working with great diligence in this area.
For our customer teams, we saw coincidence of issues. The Energy Store issue we have seen has been addressed and the new Energy Stores are to a different specification without this concern. With the ICE, the latest specification addresses the problems we've seen to date. In Austria, we have the latest versions of components and we should not see any repeats of previous woes.
? The hills are alive with the sound of music
With songs they have sung for a thousand years? #AustrianGP (no, that joke doesn't get old!) pic.twitter.com/guB5fxd0RZ

— Renault Sport F1 (@RenaultSportF1) July 5, 2017