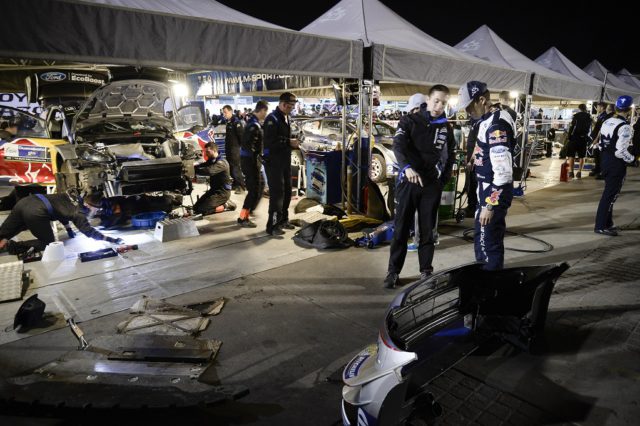 FIA is investigating the gearbox of Sebastien Ogier's Ford Fiesta WRC. The Frenchman finished second in the third round of the World Rally Championship in Mexico. Depending on the results from the investigation, the four-time WRC World Champion could be excluded from the results.
According to unconfirmed information the gearbox might be lighter than the minimum permitted weight.
A representative from the federation confirmed to motorsport.com that the gearbox was sealed and Ogier's team M-Sport will take it to Geneva. There it will pass an examination by FIA's technical delegate Jerome Toquet. The stewards of Rally Mexico will then take a decision based on Toquet's report. The expectation is for a decision before the next round of the championship, which is Rally Corsica in France – April 7th to 9th.
"Jerome will be looking at tolerances, he might well look at other gearboxes as well. This decision to investigate further infers there wasn't enough time to really get to the bottom it at post-event or it could mean there was a very strong defence from the team and that defence required further investigation", an anonymous source told motorsport.com.
M-Sport will take the gearbox of the Ford Fiesta WRC to Geneva where it will go under further investigation
According to the source the penalty could be time penalty, a fine or exclusion from the race.
There was no comment from M-Sport. The team and Ogier were really happy after the Mexican rally as that second place was Sebastien and Julien Ingrassia's third successive podium and they were first in the overall standings.
"I'm really pleased with this result. Coming away from Mexico with 22 points is a great result for me and honestly I would have taken that before the rally", the Frenchman said then.
Earlier in the 2017 season there were problems with Toyota Yaris WRC. The team changed certain parts of the car, which did not comply with the rules. In the Yaris case however there was no official investigation.
Another podium to celebrate with the Fiesta! 😀🇲🇽🍾 @MSportLtd @RallyMexico pic.twitter.com/NZNiLKVqyv

— Sébastien Ogier (@SebOgier) 12 March 2017