Kris Meeke and Paul Nagle emerged victorious in Mexico to claim the Citroen C3 WRC's first win. The team was really pleased as the success was secured on gravel. That is the surface on which the majority of the championship is contested. They take the result as a confirmation of the C3 WRC's potential. And the team will seek more proof after entering three C3s at the forthcoming Tour de Corse.
The rally started with a spectacular special stage in Mexico City's famous Zócalo square. Unfortunately, the journey back to the service park in León, 400km from the capital, ended in disarray. A road traffic accident (unrelated to the rally) led to the road being closed. That left the convoy transporting the cars stranded for several hours overnight. Their late arrival back in León resulted in the first two stages on Friday morning being cancelled.
The race therefore only really began with the rally's 55km-long marathon stage, El Chocolate. Kris Meeke grabbed the stage win to move into the overall lead. The Briton also won one of the evening's super special stages to end the first full day as leader. He already established a healthy 20.9s lead over Sébastien Ogier.
In the other C3 WRC, Stéphane Lefebvre also made a good start to the race. He ended the day sixth overall, following the plan drawn up for him by the team. However, the young Frenchman was then forced to retire in somewhat unfortunate circumstances on day three. Following a minor error, the no.8 C3 ended up stuck on a slope just off the road on a corner on SS10. The car was undamaged in the incident, so he was able to rejoin the next day under Rally2 rules.
Meanwhile, Meeke continued his dominant display, tying for first place on El Brinco (SS11) and setting the fastest aggregate time over the morning's stages. On the second pass, he claimed a stage win on Lajas de Oro (SS13) and extended his lead over Sébastien Ogier to 30.9s.
There remained "only" two stages on Sunday to complete in order to see out this maiden win for Citroen. On El Calera, the Citroen drivers scored an impressive team result. Meeke took the stage win and Lefebvre finished third.
On the Derramadero Power Stage, Kris Meeke looked like he was on course to seal the victory… when he went off the road just a few corners from the finishing line! The Northern Irishman ran wide after a big compression, through the hedge and into the middle of spectator car park! He nonetheless stayed calm and found a way back onto the road. Kris made it across the finishing line to win the rally by 13.8s!
After such an incredibly dramatic finish, there were scenes of joy and excitement in the Citroen Racing team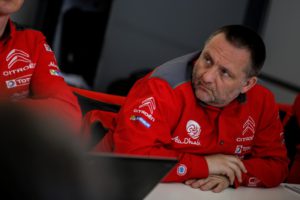 "The target [for the first day] was to be well placed for the next few days", explained team principal Yves Matton. "From Saturday onwards, when his road position was broadly similar to his direct rivals, he remained quick and was able to control the race from the front. And yet his knowledge of the Mexican stages was somewhat limited, having only previously competed here twice before this year. We also shouldn't forget that he drove the entire rally with two spare tyres. We chose to play it safe with this more conservative approach and we're pleased with the performance level achieved despite carrying the extra weight."
"As regards Stéphane Lefebvre, he made a good start, with the kind of pace we had asked him to adopt. We didn't want him to focus on pushing for fast times, but rather to gather as much experience as possible", continued Matton. "He applied himself very well before getting caught out on Saturday morning. He was really unlucky to find himself stuck right next to the road with no damage at all to the car! On Sunday morning, he was able to show how much has progressed with a road position similar to that of the leaders. He produced a great performance on SS18 to set the third fastest time, just behind the top two. He showed that he could be fast on this surface, despite also being very short on experience at this rally."
Once things had calmed down a little bit, Yves Matton was able to deliver his verdict on the weekend's events
"This first win on gravel shows that the C3 WRC has some very solid foundations and that the team has done a good job. We can now continue to develop the car in a slightly more relaxed manner", emphasized the team principal. "If we'd had to choose, then obviously we would have loved to win at Monte Carlo, which is a rally that has a special meaning for Citroen. But we have to keep our feelings out of this and look at things pragmatically. In terms of the World Championship, this result on gravel – on which around two thirds of the season is contested – and in the particularly demanding conditions encountered in Mexico, is very encouraging going forward."
What with the altitude – El Chocolate peaks at more than 2,700 metres above sea level – and the high temperatures on Friday afternoon, the cars were sorely tested in Central America
Of the many pleasing aspects of the weekend, the perfect reliability of the C3 WRCs is high on the list. "We worked a lot on the cooling systems when developing the car", reiterated Laurent Fregosi, Citroen Racing's Technical Director. "In the short to medium term, the fact we have no issues means we can focus fully on looking for extra performance."
Et qui est le boss ? Le seul qui reste calme quand @krismeeke part en hors piste… Bravo @Yves_Matton, @krismeeke et @CitroenRacing !

— Maxime Picat (@MaximePicat) 13 March 2017