Andrew Green is the technical director of the SportPesa Racing Point in Formula 1. He previews the Silverstone team's expectations for the 2019 season.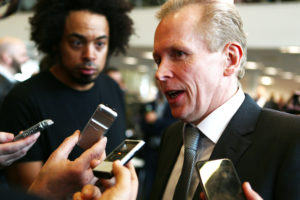 The design and build process for the RP19 has generally been an improvement compared to previous years, which is a positive result of the change in team ownership. We are already looking beyond our testing-spec car, actually: we're planning what to bring to the first race, what to bring to round five in Barcelona and what we should be looking at as we develop this package, something we've been unable to do previously.
The new car uses certain parts and assemblies from last year's car and the 2018 chassis has been modified to suit, so it needed to be re-homologated. This was one of the big decisions we had to take early on, back in July when the team's future was still uncertain. We had to find the most cost-effective way to keep development running throughout last year and decisions were made to use as much of the 2018 car as we possibly could. What we had to avoid was stopping development for two months while we waited to understand what the future held, as that would have been a significant blow to our 2019 competitiveness. Looking back, we know it was a good call.
What the team went through in 2018 has been a major story, of course, but how much of an impact did it have on the way you approached this project?
The change of ownership definitely affected the decisions we made last year. It came a few months too late to affect the fundamental philosophy of the 2019 car, so we set out to work in the same way we had done before, when the finances of the team were very lean. In reality we couldn't expect a big inflow of cash until September, so we made certain decisions about the chassis and gearbox that allowed us to keep developing. Whilst all this was happening we carried on adding some performance to the 2018 car by developing the parts we had. Often the upgrades never made it past the wind tunnel model but we had to keep car development progressing at all times, otherwise we'd just fall further behind. It was the only way to work given the situation we were in.
Now the lean times are over and the team has found a new stability – how will this change the way you work?
It's been a massive change, and one for the best, with a real change in development philosophy. This year, we will be bringing updates to the car as soon as they're ready. We won't be waiting to put together bigger packages, but will focus on making incremental gains at every race. The improved financial situation of the team helps this strategy a lot, but this situation owes a lot to the change in regulations as well. A new set of aero rules means the development slope has become steep again. The gains are not going to taper off into marginal increases this year, we are in a situation in which we find significant performance at regular intervals. The model is developing at such a fast pace we cannot afford not to bring parts to the car as soon as we can.
You mentioned the new regulation changes. How crucial are they and will they result in the field being spread out or closer?
The 2019 regulation changes are significant. The modifications to the front wing alone have had a big impact, as they affect the aerodynamic performance of the whole car: when changes are made to something at the front, everything downstream is affected. There are also significant new regulations for the front brake ducts and the rear wing as well, so overall the 2019 car has required a lot of optimisation and re-design work. Ultimately we may struggle to find out if these new rules improve the racing and unfortunately I don't think they will help close the grid up, but what we know from looking at our data is that they produce a significant loss of performance, one we are still fighting to recover.
Winter testing starts next week – the first time we'll see the RP19 on track. What can we expect from these two weeks?
Expect quite a plain, 'vanilla' car to start with as we produced what we believe is a car capable of delivering what we need to achieve in Barcelona – working on reliability and understanding the tyres. Of course, it's incredibly difficult to extract good performance data from Barcelona in the winter, but it's the same for everyone. We did what we needed to get the car out for launch, but in the background we have always been working on the car for the first race, trying to find the maximum performance we can and bring to Melbourne.
Will we see a much different car in Australia, then?
Yes, we are planning to update the car for the first race and probably the two or three races after that. They'll be fairly significant changes ahead of another big step forward in Barcelona, in race five. Hopefully, by the time we get to Europe we will have a decent platform to be working with and developing.
Look at this beauty – our SportPesa Racing Point car!

Welcome @SportPesa – now it's time to #MakeItCount!
Our 2019 look is here! #WeAreReady #NewEra pic.twitter.com/ZfsyijL42o

— SportPesa Racing Point F1 Team (@RacingPointF1) February 13, 2019
Of course, the changes don't stop with the car. There's a new driver line-up, too…
It's a really exciting time for the team. We have always taken great pride in the way we can bring the best out of a driver in the cockpit. We have done that with several drivers in the past. And we are looking forward to doing the same with Lance. We have seen his potential, right from the first day he tested with us in Abu Dhabi and every time he runs in the simulator. The raw talent is there, there is no doubt about that.
To be able to have Sergio as a sounding board and as a reference point is just so important. He brings so much experience and knowledge to the table, he has worked closely with the team for so many years – he understands us and we understand him. I expect Lance to get up to speed very quickly. He is not a rookie but he is still very young, so he has a lot to learn and we have a lot to teach him – and so has Checo. I don't think it's going to be long before the two are fighting it out for the same spot on the grid, just like it was in the last season with Esteban!
Finally, how much are you looking forward to seeing the car on track?
I can't wait! We all want to start understanding the various aspects of the car's performance; understanding all the mechanical and aerodynamic aspects of the car, our new power unit and make sure our reliability is sound.
It's a matter of putting in the miles and understanding the tyres as much as we can… and then looking forward to an updated car in Melbourne.
It's going to be a big challenge for everyone but we are all very much up for it
We have been doing a significant amount of preparation in the pre-season, the biggest we have ever done. The simulator programme is the most extensive we've ever achieved, a 100% expansion on where we were last year. There has been a huge investment in this area, but the tool now is capable of delivering results. We have spent many years developing this area of the team and now it's bringing performance.
There's always a certain degree of apprehension at this time: wondering how good a job we've done, and wondering how good the others have been. We want to see how we measure against the competition because so far we've have only measured ourselves against our own targets. It's also interesting to see what designs the other teams have come up with and how they solved the problems the new rules have brought.
This year will be a challenge, with new rules and a new driver line-up, but that's what we do
It's what drives and motivate us. No matter how exhausted you are after Abu Dhabi, within a month of being back at HQ you miss the racing and just want to get back to running the car. This year, I can't wait to get started. We have a brand new identity, so much is new and there's a real sense of excitement within the team.
It's not even a new chapter, it's a new book. It's the most exciting time for the team and the vision the shareholders have for the company is incredible. I can't wait.