Citroen used Rally Argentina's final leg to keep working on its C3 WRC, whilst also setting some probing times. Kris Meeke and Paul Nagle moved up a place in the standings to finish seventh overall. Khalid Al Qassimi and Chris Patterson concluded their first 2018 WRC outing in 14th.
"We did set-up tests for Portugal and it was informative. The feeling was very good in the car. Apart from that, and the frustration of not being able to bring home the result that we deserved, the main thing for me is that the upgrades introduced this weekend to the C3 WRC enabled us to be a lot more consistent. I felt confident throughout the weekend, even when fighting for the podium. I felt that I had the situation under control at all times and we need to keep going in this direction", Meeke said.
?This year things do seem to be going against me a bit. But we'll come back fighting!!
Thanks, as always, for your support!??#krismeeke #citroen @AbuDhabiRacing1 pic.twitter.com/XwhBuw5cHz

— krismeeke.com (@krismeeke) April 29, 2018
Meanwhile, Khalid Al Qassimi was first on the road on Sunday. Therefore, he swept the loose gravel from the roads on stages which become rutted as more cars complete. He could take some satisfaction from having made it to the end of the rally. The driver gradually got to grips with the C3 WRC on his first competitive outing in the car in 2018.
"Obviously, I'm disappointed for the team that we didn't manage to secure a result that would reflect our real performance level. Nevertheless, I'm pleased to see our C3 WRC make regular progress. And I'm convinced that this will lead to some good results very shortly. On a more personal note, running first on the road didn't make life easy for me. But I was happy to be back with the team and enjoy the atmosphere of the championship again", Al Qassimi explained.
Meeke: The upgrades in Argentina enabled us to be a lot more consistent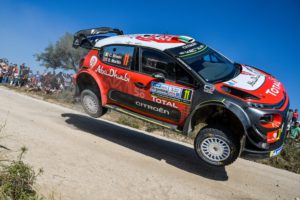 Craig Breen was caught out by a crest on a corner and rolled the car on the second day of the rally. He nursed the car back to midday service. But an in-depth analysis of the roll cage, which had been damaged in the incident, concluded it was unfit to continue.
"Unfortunately, I turned in a bit too soon on a right-hander over a crest. I realised that I was going to hit a ditch so I tried to steer to avoid it. But it was too little, too late and when we landed, we were thrown into a roll. Obviously, I'm sorry for the team, who deserved a better result and am frustrated not to have been able to complete any more miles at this event, where I'm already short on experience. But I have to focus on the speed we showed at certain points and will aim to come back stronger in Portugal", Breen said.
El Citroën #Mehari cumple su 50° aniversario y los pilotos @Craig_Breen @krismeeke del Citroën Total Abu Dhabi WRT le hicieron un homenaje por las calles de Buenos Aires.
¡Mirá los momentos más divertidos! @TotalArgentina @CitroenRacing ??⚡ pic.twitter.com/xP55xtxIVC

— Citroën Argentina (@citroenarg) May 2, 2018