Ott Tanak delivered a podium for the Toyota team on the opening round of the 2019 season, with a superb fightback on Rallye Monte-Carlo. Jari-Matti Latvala and Kris Meeke also finished inside the top six, with Meeke additionally winning the Power Stage.
Tanak had begun the event in fine form, leading after Thursday night's opening stages, but ended Friday down in seventh overall after stopping to change a wheel. He then won all four stages on Saturday and the opening two tests on Sunday morning to make up a deficit of more than a minute to third position.
Latvala was also in the fight for a podium place and eventually finished fifth, only 1.7 seconds from fourth. Meeke was sixth after losing several minutes changing flat tyres earlier in the weekend, but he quickly gelled with his new car in his first WRC start for more than eight months. He came second to Tanak on four stages and then won the finale, claiming the maximum five bonus points.
Tommi Mäkinen (Toyota Team Principal)
"It was a great finish to the rally for us and a very positive result. We have scored some good points for the championship. We were fastest on nine out of the 15 stages here, which proves the strong performance of our car. Kris's performance has been especially impressive in his first rally with us. I think he has sent a warning to everybody else for the rest of the season and everybody will be keeping their eyes on him."
Ott Tanak
"I am very pleased with this podium. After Friday I didn't have such high hopes. I'm surprised we could catch all this time back on asphalt in relatively dry conditions. We had a good run [on Sunday] morning and then we just had to maintain our position to the finish. I'm really happy with the team, with my gravel crew and with the car. We did a perfect job on Saturday and Sunday and we should all feel proud of ourselves."
3rd place! ?
It was good weekend, except for one thing that we couldn't control. ?
Thanks @MartinKangur and @sikkkuldar for this great support and information during the weekend! ?#RallyeMonteCarlo #WRC #TGR_WRC #GoOtt #YarisWRC #OttTanak #3rd pic.twitter.com/nQgi0kAQiI

— Ott Tänak (@OttTanak) January 27, 2019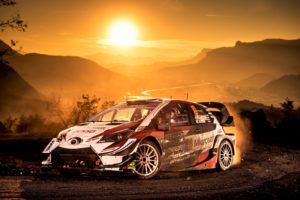 Jari-Matti Latvala
"It was a close fight for the whole weekend, but I wasn't at my best, I must say. I'm disappointed that I couldn't take fourth place. But I realise now that I made a mistake in our test and I developed the wrong sort of setup for the rally. Because of that, my car was understeering too much for my driving style, and the confidence wasn't there to go faster. But we had a clean weekend with no errors and we have scored some good points, which is important to start the season. We know that the car is capable of winning."
Let's throwback the first round on the season! You will find all the pictures ? of @rallyemontecarl on my Facebook page or on my website https://t.co/Y3KqrFMBn3 ! #ThrowbackTursday #TBT #RallyeMonteCarlo #WRC #TOYOTA #YarisWRC #AllForWin #Mountains @AtWorldMA pic.twitter.com/J5ON4bqCpl

— Jari-Matti Latvala (@JariMattiWRC) January 31, 2019
Kris Meeke
"To win the Power Stage was an incredible way to finish our first rally with Toyota. We only set one fastest time but we did it when it counted. Other drivers were still fighting for their positions until the end, so to put it on the line and come away with the five points is great. We had technical issues that affected our result – fourth might have been possible – but to show our speed is really nice. The feeling with the car is really good. Finally, everything seems to be coming together for me, but we're only one rally in, so we have to stay concentrated now and look forward to Sweden."