Make like a monarch and upgrade your wheels to a classic Range Rover, as driven by Prince Phillip for a state visit by President Obama and wife Michelle. Now it is listed on Auto Trader for £129,850.
This Range Rover 4.4 SD V8 was in use for a high-profile visit in April 2016. Then Prince Phillip drove himself and Her Majesty The Queen to meet President Obama and The First Lady Michelle as they attended a state visit to the UK. The car has a super low mileage of just 3,200 miles on the clock. It's seated royalty and diplomats alike whilst being part of the Royal Household for two years.
The Range Rover 4.4 SDV8 is top of the range. Previously it has been kitted out with thousands of pounds worth of upgrades. These included covert lighting and police emergency lighting. There were also special side steps to allow Her Majesty to sit in the rear passenger seat comfortably. Brand new this model of Range River would cost £105,080. But this car has an increased price value of 24% due to its royal owners and esteemed passengers.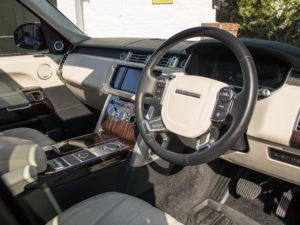 The Royal Range Rover of Prince Phillip goes for sale on Auto Trader
A spokesperson for Auto Trader said: "It's not unusual to find cars previously owned by the rich and famous on Auto Trader, but in recent years we've seen a big influx of Royal cars, many of which hold significant premiums due to the status of the previous owners.
"Low mileage, expensive extras and expert maintenance are some of the reasons why Royal cars are often more expensive than similar models on the market, but data from the Auto Trader marketplace also suggests that the premium with these cars increases the closer the Royal is to the throne."
Prince Harry's Audi RS6, which surfaced on Auto Trader earlier this year. It had a price +8.3% above the average market value. There's a similar increase to Prince Andrew's Bentley (+7.2%), which is also currently listed for sale on Auto Trader.
Yet Prince William's Range Rover, which was listed for sale on Auto Trader in 2016, held a staggering +200% premium. This was followed by a listing for the Queen's Bentley Mulsanne in the same year, with an asking price of +99% above the market value.