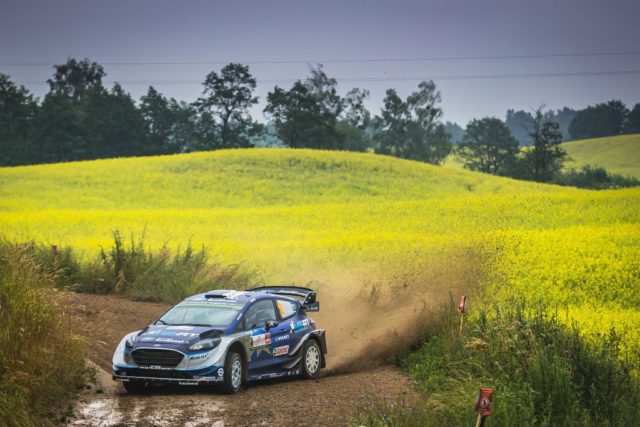 Ott Tänak and Martin Järveoja are in with a chance of another top result at this weekend's Rally Poland. They are locked in an intense battle at the head of the field.
As the third car on the road, the Estonians made the most of their road position over both passes. Currently sitting in second place overall, the championship's latest winner is just 1.3 seconds adrift of the lead with close to 200 kilometres left to contest.
"It's been an extremely tricky day today, but the Polish roads are always enjoyable", Tänak commented. "It's a really tight battle and I'm sure that tomorrow will be interesting with a lot of new stages. We just need to keep our focus and continue as we have today."
"This was only the first day of competition and with the conditions as extreme as they were there was no need to go flat-out. For sure we need to keep the speed up so we'll see what we can do tomorrow – when the conditions will hopefully be a little drier so that we can really enjoy these mega stages!"
Ott Tänak: "We just need to keep our focus and continue as we have today"
Second position tonight, and it's a close fight ?? We're 1.3 seconds off the lead with a lot of new stages to come! ?? #WRC #RallyPoland pic.twitter.com/rTsEm9Axzy

— Ott Tänak (@OttTanak) June 30, 2017
Sébastien Ogier and Julien Ingrassia took advantage of their road position through the opening pass as the early runners benefitted from the worsening conditions
Their fortune was however soon to change. Ogier found himself at a disadvantage whilst opening the road once again. With water-logged ruts being the order of the second pass, the Frenchman suffered dearly, clearing the worst of the water.
"It's been a really tough day and we suffered quite a lot this afternoon. Being the first car on the road there was so much standing water and so many ruts which lost us a lot of time. I really tried to push. But there was nothing we could do when faced with these sorts of conditions", Ogier explained.
"We had to run difficult stages. And even in this one, I had a cracked windscreen, I couldn't see anything. The end of a difficult day!"

— Sébastien Ogier (@SebOgier) June 30, 2017
Running further down the field, Elfyn Evans and Daniel Barritt had to contend with worsening conditions through the opening loop and suffered as a result
"We didn't want extreme conditions this weekend, but that's exactly what we got. And we've just had to manage as best we can", Evans said.
"It's been really tricky out there. The inconsistent grip levels made it really difficult to judge. It was nice to take another stage win this evening, and let's just wait and see what conditions we're faced with tomorrow."