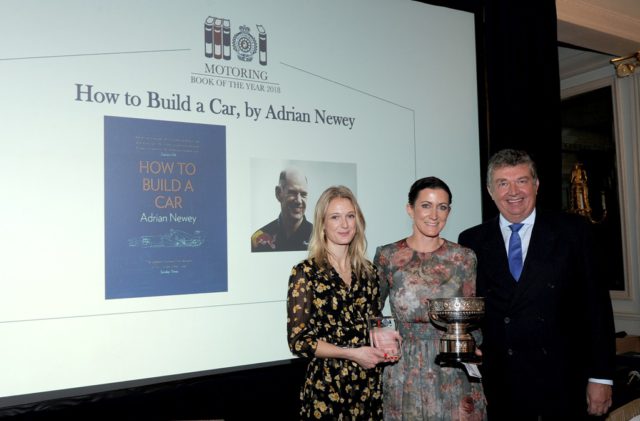 The fascinating and powerful memoir, How To Build A Car, of Adrian Newey scooped the Royal Automobile Club's Motoring Book of the Year Award for 2018. Broadcaster and journalist Simon Taylor hosted the annual awards which turned into a special evening.
The category Motoring Book of the Year Award is now in its fifth year. Newey's book (publisher Harper Collins) received high praise from the judges. They described it as "a remarkable behind-the-scenes account from one of Formula 1's greatest designers. Enough technical detail to satisfy and a must for any racing fan".
How to Build a Car explores the story of Adrian's illustrious 35-year career in Formula 1. He narrates it through the prism of the cars he has designed and also the drivers he has worked alongside.  Newey tells many of the races in which he's been involved as well – from his early career in IndyCar racing through to his unparalleled success in Formula 1.
Whilst Adrian Newey was out of the country and not able to receive the award personally, his wife Amanda accepted the award
She read out a message on his behalf. "To be nominated by the Royal Automobile Club for the Motoring Book of the Year is a tremendous privilege. I will be honest, I wrote the book with no particular objection in mind other than to tell my story in the hope that it might be useful or interesting to others and to give my own family an insight into what makes me tick. For it to be recognised in this way tonight is an unexpected honour for which I would like to thank you all".
Peter Read, the Club's Motoring Committee Chairman, said:
"Our independent judges undertake an incredible task for us, and it's great to hear that the 2018 winner is Adrian Newey. His book is an excellent read, beautifully illustrated and encapsulates the remarkable life story of arguably one of Britain's greatest motorsport engineers".
Meanwhile, previous winner Damon Hill OBE passed on a message of congratulations. He said: "As a motorsport person, there is nothing quite like a ringing endorsement from your peers. It makes such a nice change! All the best with the book sales. I look forward to reading it eventually. Maybe on a flight?"
The wholly independent judging panel also awarded 'Specialist Book of The Year' for an impressive feat of research and endeavour. That went to Reid Railton: Man of Speed by Karl Ludvigsen (publisher Evro Publishing).
'Reid Railton: Man of Speed' is the first book dedicated to the life and career of automotive engineer Reid Railton. One of the judges said: "What a life story, and what a book – lavishly researched, profusely illustrated, endlessly informative".
Reid Railton created an extraordinary range of cars
He worked during the 1930s as chief engineer at Thomson & Taylor, the racing-car builders from Brooklands. There he realised the dreams of that era's top men of speed, while his great cars powered them all to sensational racing and record-breaking success. Railton worked with Tim Birkin, Malcolm Campbell, Whitney Straight, as well as John Cobb, Raymond Mays and Goldie Gardner.
This magisterial book is the work of one of the world's foremost automotive historians. It tells Reid Railton's personal and professional story in fascinating depth, with a special focus as well on Reid's unique insights – amounting to genius – and technical accomplishments.
The judges for the Award are leading specialist bookseller Ben Horton of Hortons Books; Gordon Cruickshank of Motor Sport magazine; Mark Dixon, deputy editor of Octane; Mick Walsh, international editor of Classic & Sports Car magazine; Christian Whitehead from London bookstore Foyles; and Tom Wiltshire of Auto Express.