Virtual reality (VR) technology has certainly made its way to the world of sports. This summer BBC Sport offered fans the chance to experience the World Cup in VR. Using a VR headset, football fans were able to watch games as if they "were actually watching from inside the stadium," affording them a fully immersive experience unlike no other.
And indeed, much of the promise of VR in sports is about enhancing the fan experience, as in the case of a recently released game that will allow Formula E fans to race against their favourite drivers. As reported previously here on ClubsS1, the game will soon feature VR to further enhance the fans' game playing experience, and give them a chance to be a professional driver.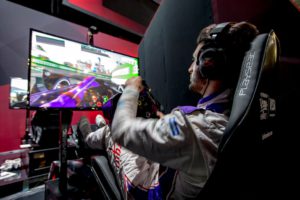 But make no mistake about it: virtual reality has a place in sports for athletes, too, as it is now being used for training purposes
One of the leaders to this end is STRIVR, who have made it possible for high-level athletes to train using VR. For example, in the NFL, quarterbacks Carson Palmer and Tyrod Taylor have been integrating VR into their training. Meanwhile, basketball players like Stephen Curry are utilising high-tech VR goggles to improve their ball handling and shooting.
But the impact of VR is arguably most pronounced in Formula 1. Virtual reality gives drivers an "extra edge" in that it can help them visualise a track using this particular technology. Unsurprisingly, a number of F1 drivers now incorporate VR training into their training, with the now-retired Nico Rosberg becoming one of the technology's biggest proponents. The former world champion swears by VR training, stating that the realism the technology affords him, helps improve practice time. F1 drivers are the biggest beneficiaries of VR as it isn't out of the sport's limitations on testing. This is why Rosberg and his team used the technology extensively in their pre-race preparation.
Perhaps not coincidentally, Rosberg drove for Mercedes, one of the most successful F1 teams in recent times
The team also happens to be one of the pioneers in using VR technology in F1, with team principal Toto Wolff outlining Mercedes's push to build a VR-assisted simulator. According to Wolff, VR is definitely "the way forward" in terms of best simulating what happens on a racetrack. And that is why the team has implemented VR into their extensive driver training setup.
Teams, though, are having to improvise to make full use of VR in training. That happens mainly because the existing technology is not quite up to par just yet with what drivers truly need. The ideal F1 VR simulation requires specialised software, zero lag, and high frame rates. And existing platforms don't meet these requirements. This is why teams need to advance the technology on their own, although Mercedes seems to have a head start in this regard mainly due to their partnership with Qualcomm.
Yes, VR has made a significant progress in the world of F1. And a time may very well come when it will be indispensable to drivers, to their respective teams, and even to fans of the sport.