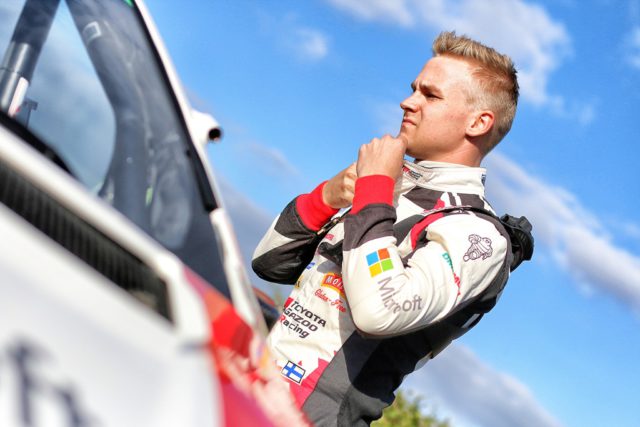 Citroen announced that Esapekka Lappi and his co-driver Janne Ferm will join its works team in 2019, alongside Sébastien Ogier and Julien Ingrassia.
The 27-year-old Finn has emerged in the last few seasons as a future champion. He already has an impressive competitive record for someone with such limited experience. Lappi has 40 starts in the world championship, 19 of which in a WRC. It was in 2012, at Rally Finland, that Esapekka first made his mark on the world scene. Then, for long periods, he more than held his own against a certain Sébastien Ogier in the same class. After claiming the Finnish Rally Championship that year, winning all seven rounds, he continued his gradual improvement. The Finn became European champion in 2014 and securing the WRC2 title in 2016.
Since the 2017 Rally de Portugal, where he made his WRC debut, Esapekka has continued to impress. He also established himself as a "Flying Finn", yet another talented driver from a country that has long punched above its weight in the world of rallying. His maiden WRC win came at his home round in Finland last year. That was only his fourth outing in a WRC and the success further cemented his growing reputation.
This season, he has once again confirmed his undoubted pace. Lappi showed consistency and speed on all surfaces and was 3rd in Sardinia, Germany and Wales). In fact, he currently lies fourth in the championship. That is behind the three drivers who are fighting it out in one of the most closely-contested title races in years.
Pierre Budar, Citroen Racing Team Principal
"We were keen to sign up two very competitive crews for next year and the arrival of Esapekka is, therefore, excellent news! Putting faith in young drivers has long been hard-wired in the DNA of our brand. Esapekka certainly has the ideal profile. Talented, determined and focused, he should form both a complementary – and formidable – pair with Sébastien. We feel there is still more to come from him, so we'll be doing what we can to get him in the best possible shape to help him continue his impressive rise through the ranks."
Esapekka Lappi
"Obviously, I'm delighted to be joining the team and to be the future team-mate of Sébastien. It's a good opportunity for me to keep developing. After having learned many things from Jari-Matti Latvala last year, and from Ott Tanak this year, I'll have everything it takes to be even better if I also manage to draw inspiration from Seb! I'm convinced that the car has a lot of potential as does the team, which has a long history and lot of experience in the WRC. The fact that Pierre clearly wanted to recruit me also counted a lot when it came to making my decision. It's also going to be a great challenge, trying to win together."