Hayden Paddon took the seventh career of his WRC podium – he achieved it in Rally Turkey.
That was the first top 3 classification for Paddon and co-driver Seb Marshall in 2018 as well as best result since Australia 2017
"I am really happy with our first podium of the season. It has been a very tough rally. We have adopted a particular strategy that has required us to hold back and be patient. Thankfully that approach has paid off and we have been rewarded with third place – it's been a while since we've been on the podium! It hasn't been the rally that the team wanted or deserved. I am fully behind them coming back in the final rounds of the season and I am personally looking forward to Wales Rally GB."
How good do you know @HaydenPaddon / @sebmarshall ?
? https://t.co/tOPFaIoIql #WRC #HyundaiMotorsport #PaddonsPack @HMSGOfficial @Michelin_Sport pic.twitter.com/PFgBK3KQ0a

— WRC (@OfficialWRC) September 20, 2018
Some of my favourite photos from a tough but rewarding @rallyturkey – certainly a rally that left a mark! @HMSGOfficial @HyundaiNZ @zenergynz @PAKnSAVE #paddonspack #winmaxbrakes pic.twitter.com/bUwA9oAMFY

— Hayden Paddon (@HaydenPaddon) September 16, 2018
Andreas Mikkelsen and Anders Jæger took three stage wins and on three separate occasions were in lead of Rally Turkey
Their fifth place secured important points for the championship.
"It was very important for us to finish the rally with a safe, clever drive today. We took it easy on [the last day], including the Power Stage, because we needed to secure the points for the manufacturers' championship. Finishing fifth is not what we wanted, nor what we were capable of. Despite our speed, which we showed by leading the rally on three separate occasions, unfortunately the issues we encountered prevented us from capitalising on our potential. We have lost a lot to Toyota that weekend, so we now look forward to a strong return at the next event in Wales GB", Mikkelsen explained.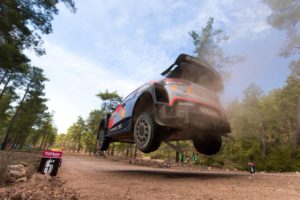 They scored four stage wins in total over the rally. With an impressive Power Stage performance the Belgian crew scored five additional drivers' points.
Neuville commented: "I was absolutely flat-out in the Power Stage and could not have done any more. We really needed those five points. We are fighting for the championship against some very hard guys to beat, so we had to give it everything. In all honesty, I feel we should have taken the win that weekend. We were clearly the fastest, especially on Friday when we were first on the road and leading at the end of the day. Were it not for a small issue on our car, we could have achieved so much more here. I am disappointed, but as a team we win and lose together. We will dust ourselves down and come back strong in the final three rallies."
Check out! All the pictures of @rallyturkey are on my Facebook page! ?#WRC #HMSGOfficial pic.twitter.com/HEN1UvBn11

— Thierry Neuville (@thierryneuville) September 16, 2018