Kimi Raikkonen is called the Iceman but he is one of the most loved drivers in Formula 1. His unique character was on full display at the Thursday's press conference in Singapore when one of the main topics was his decision to go to Sauber for the next two seasons.
"I guess you know what happened. I don't know what else you want to know. This is what happened. As we've said many times before, it's not up to me, it's not my decision in the end. Anything after that is obviously my decision but this is the outcome. At least we have an outcome", Raikkonen explained.
Asked why he is going to Sauber, the Finn answered: "Why not?"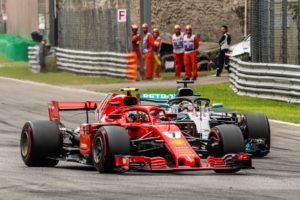 Kimi, why are you going to Sauber?
"Why not?"
But why?
"Because I want to."
When the question was repeated Kimi coolly said: "Because I want to. Why do you try to make it so complicated? I don't know anything more than you guys, purely where they have been finishing. Obviously I don't know what will happen next year, nobody knows what will happen next year when it comes to the speeds of the cars and the teams and obviously, we can always guess but we will see what we can do. I have my reasons and that's enough for me. I don't really care what others think and as long as I'm happy with my own reasons, it's enough for me."
The next question was: "And you're still passionate about racing? The fire…" And here Raikkonen interrupted it.
"No, I'm not actually. Just by pure head games for you guys, I happened to sign and I'm going to spend two years there just not being happy."
Think we can all agree that another two years of this is a good thing ??#SingaporeGP ?? #F1 pic.twitter.com/OEFelFViFm

— Formula 1 (@F1) September 13, 2018
The Finnish driver also stated that he is not interested in any numbers or records but "purely what I feel is right for me and that's it"
"I always said that I will stop when I feel it's right for me. I don't need to comment how I feel. Obviously, the racing is the part that I enjoy most and that's why we are here. It's always been a big part of the race weekend, all the other stuff which is normal for us, but it's not the reason to come here."
"The reason is to drive and race. It's not the big part of the weekend any more as it used to be because obviously everything changes a bit but that's the only reason, really. The other stuff that comes with it, it's very normal, it's always been there. It comes with the package. It's not often that you get a package where you only have the good things. It's OK. We all know each other. It's the same answers, same questions every time so it's not too difficult", Kimi added.
Racing? Records? Reporters?

Kimi has one pure motivation for staying in #F1! pic.twitter.com/8zGb7mIIty

— Formula 1 (@F1) September 13, 2018