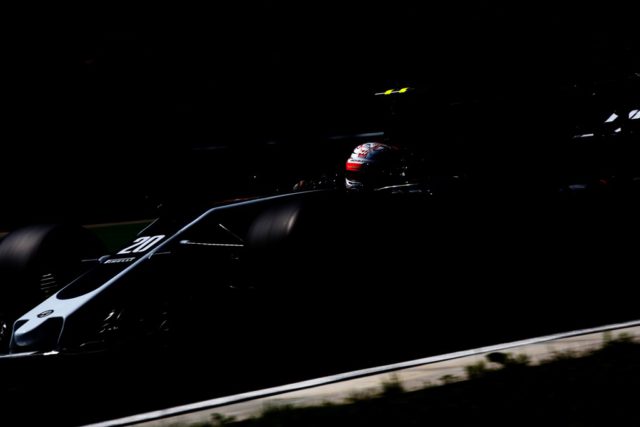 Kevin Magnussen reckons it is hard for people to see what progress is being made from the outside in a team like Haas.
Abu Dhabi is the season finale, and it's also the finale of Haas F1 Team's sophomore year. After racing for an established team in Renault last year and a still very young organization in Haas F1 Team this year, how does this season compare to last season?
"It's been a really good season. In terms of results, we could've gotten more out of it. Performance has been there to score big points on a few occasions, but we've missed out due to bad luck or reliability issues. I think we could've had a little more to show with a bit more luck, but it's been a really enjoyable season, and I've had the most fun racing that perhaps I've ever had."
Regardless of the outcome in the Abu Dhabi Grand Prix, Haas F1 Team will have surpassed its point tally from 2016 by 18 points. Are points scored the surest, most tangible examples of progress, or are there other elements of progress not everyone is able to see from the outside?
"It's hard for people to see what progress is being made from the outside. A lot of the stuff doesn't pay off straight away. A lot of the stuff you improve and develop. It's about the little steps, and when you do a thousand of them, you make progress and the benefits become visible. Each time you make a step, it's not always visible. I can certainly see from the inside how we're building up and improving. There's still a long way to go and I'm happy I'm a part of it."
What were the team's strengths?
"We've designed a strong car. The baseline of our car is very competitive. I think we just need to try and improve our understanding of the car and our operation of the car so we can extract the performance out of it in every condition, every temperature and every track. We've had a few places where we've been very strong and stood out a bit compared to the rest of the season. That tells me the design of the car is right, we just need to exploit it better."
The way Haas F1 Team is set up is unorthodox, at least by Formula One standards. Does the team's success in its second year validate Haas F1 Team's approach?
"Yes, I believe it does."
While the drivers and constructors championships have been decided, the midfield battle is still very much alive heading into Abu Dhabi. Haas F1 Team is currently eighth in the constructors' standings, with seventh just two points out and sixth only six points away. Is bettering your point standing still possible?
"Yes, definitely. We have nothing to lose going into Abu Dhabi. We just have to go for it. It's going to be exciting."
Is there a particular moment from this season that stands out the most for you?
"It's hard to pick out just one. Naturally, I would've liked to have had a few more good results. I think they were definitely in the cards, but just didn't happen for different reasons."
Yas Marina Circuit is a showplace. What makes it stand out on the Formula One schedule?
"It's a very glamorous race to go to as a spectator. It's obviously a race that goes into the night, which makes it more spectacular. And is the finale of the season, so it's always a special race no matter where that is, but I think Abu Dhabi does a good job hosting it."
With the race beginning in the late afternoon and ending at night, how much does the track change as the air and track temperatures cool and, in turn, how does that affect tire management?
"In terms of the race, it's not too bad. Setting up your car, working on the setup over the weekend, it's difficult because all the sessions are in different temperatures. What you get in FP1 is never what you get in FP2. It's never comparable, and it's the same with FP3 in relation to qualifying. It's a challenging event in terms of building up your weekend."
Do you have any milestones or moments from your junior career that you enjoyed at Abu Dhabi?
"I've only ever raced at Abu Dhabi in Formula One. I had my first test in a Formula One car there back in 2012. That's obviously a good memory."
What is your favourite part of Yas Marina Circuit?
"I'd say sector one is enjoyable, but probably with this car, it's going to be quite easy flat, less challenging. That makes sector three the most challenging now."
As you head into the offseason, how much "off" is there, or is that just a misnomer because preseason testing tends to arrive quickly?
"It's the time of year where you actually work the hardest, at least in terms of your training. You don't have any races to prepare for, so you can push yourself a bit more and really build up your fitness over the winter. Obviously, it's nice to get a break from all the travelling, but it doesn't take long before you start missing racing again."
As we look ahead to 2018, how helpful is that for the first time in two years, you're able to develop a car based on the car you've raced this year?
"It's going to be interesting. It's a good feeling going into the season with the team and an idea of a car that I know from a season already. I'm very much looking forward to that."
Thanks for the @BLASTSeries invite @dev1ce , @dupreehCSGO , @gla1ve_csgo , @Xyp9x and @KjaerbyeCS ! Sadly, I can't join as I am busy in Abu Dhabi. Love the new #astralisXjackandjones Jersey! pic.twitter.com/CJtXrEQ6ff

— Kevin Magnussen (@KevinMagnussen) November 17, 2017