The intrepid stars and superfast cars of the FIA World Rally Championship will make a spectacular return to the UK when the 2018 Dayinsure Wales Rally GB blasts off under the floodlights at the Tir Prince Raceway on the evening of Thursday 4 October.
Introduced last year, the innovative new Visit Conwy Tir Prince curtain-raiser proved to be a real crowd-pleaser attracting more than 6,000 visitors.
Now the organizers promise an even bigger and better show.
Competitors will be again racing against-the-clock on a challenging course
The course combines sections of the venue's renowned harness racing cinder track and adjoining hard-standing areas. Adding to the excitement, jumps will again launch cars into the night sky. A new wheel-spinning doughnut will guarantee plenty of eye-catching tyre smoke.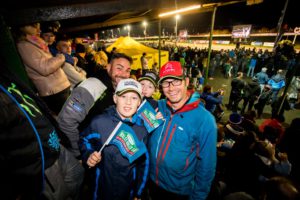 The layout of the competitive route provides spectators with even more dramatic viewing opportunities. There will also be extra floodlighting plus the chance for fans to upgrade to a special new Paddock Pass.
This Paddock Pass provides access to an unreserved seat in a stage-side grandstand adjacent to the new Dayinsure doughnut as well as a grandstand seat offering great views over the popular warm-up area where drivers perform lots of rubber burning skids while revving up for the start.
Whether upgrading or not, all those at Tir Prince will savour a full evening of exhilarating car-themed family entertainment. There will be autograph sessions, interviews, commentary, big screens. The event also includes Paul Swift stunt driving shows, Supermoto bikes, catering, merchandise shopping and much, much more.
Outstanding value is also on the cards
Adult tickets are just £15 when purchased in advance (or £20 on the gate). Meanwhile, accompanied children (age 15 and under) are admitted free. The four-day World Rally Pass, available for £99, and the Thursday Day Pass, which costs £28 include admission for the event. Paddock Passes are an additional £10 for adults and £15 for children strictly subject to availability.
The venue is easily accessible, too
It is conveniently close to Kinmel Bay in the busy north Wales resort region and adjacent to the A55 north Wales Expressway, providing straightforward travel for those in cities such as Liverpool and Manchester.
"It's going to be another great night out," predicted Ben Taylor, Dayinsure Wales Rally GB Managing Director. "Rallying is an amazing sport, but it can be difficult for people to get to see it, so we are always looking for imaginative ways to bring it to new audiences.
"The kick-off stage at Tir Prince proved to be an instant success when introduced last year. It bought the WRC action to the heart of a well-populated area and got the rally off to the best possible start. I have no doubt that we'll get another amazing crowd for what's going to be an equally memorable opening evening come early October."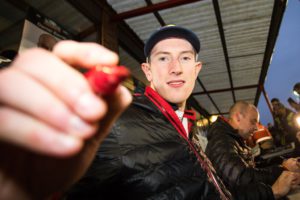 Last year's rally winner Elfyn Evans is another looking forward to Tir Prince. The Welshman said: "I don't think anybody really knew what to expect from this new venue when it first appeared on the route last year, but there were a lot of people and that created a really nice atmosphere. For a driver, it is actually quite a tricky little stage on what's a sandy surface."
Excited about our new stage at @Llechwedd_Mine – Slate Mountain. Along with our friends at @Dayinsure and @ZipWorldUK we thought we would drop in before the @OfficialWRC does and have a look! ?

Tickets can now be purchased at https://t.co/PQrvqwxyts#Skydriver #WRGB #WRC pic.twitter.com/DPj7oeGCRh

— Wales Rally GB (@WalesRallyGB) August 1, 2018