After an epic 16,000-kilometer drive, polar explorer Marek Kaminski has arrived in Japan. He started his landmark #NoTraceExpedition in Poland three months earlier. And for this adventure, Kaminski uses Europe's best-selling electric vehicle, the new Nissan LEAF.
Marek's eco-friendly trip took him from Zakopane, Poland through eight countries over two continents. He also went through a host of varying driving conditions. Kaminski passed through Lithuania, Belarus, Russia, Mongolia, China and South Korea on his way to the finishing point in Tokyo.
The "no trace left behind" mantra of the #NoTraceExpedition demonstrates the feasibility of zero-emission travel by electric car. It also sets the example for explorers wanting to visit the world's furthest corners without damaging the environment.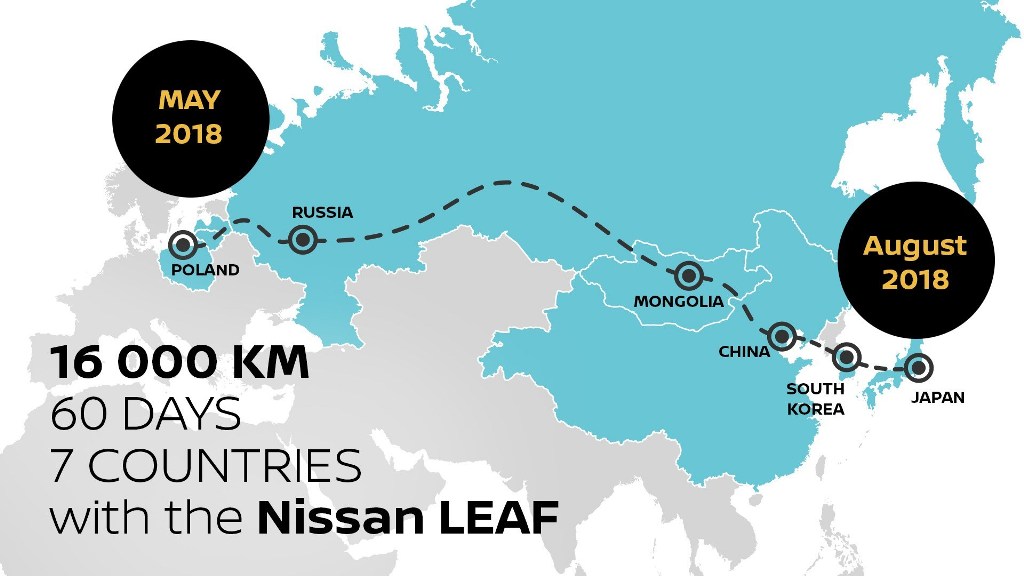 Marek Kaminski can claim to be the first man to have trekked to the North and South Poles in the same year
But his expedition by electric car is likely to be just as memorable. Among Marek's adventures, detours along dirt tracks in Mongolia and some inventive charging solutions in Russia were notable highlights.
Unfazed by the first 16,000 kilometres, Marek will now get back behind the wheel. He will complete the return journey from Tokyo to Poland in the same car.
The new, 100% electric Nissan LEAF is at the forefront of Nissan's Intelligent Mobility strategy, featuring forward-thinking technology designed to make it better than ever to drive and own. With a new 40 kWh battery yielding a combined driving cycle range of 270 km under the new, real world-reflective WLTP emissions and economy framework, the LEAF offers customers an assured and dynamic driving experience.
In his mission to challenge the myths around sustainable travel, Marek sees the new LEAF as the perfect partner
The car produces zero tailpipe emissions. It also offers a host of features including Nissan e-Pedal and ProPILOT semi-autonomous driving system to make travel effortless.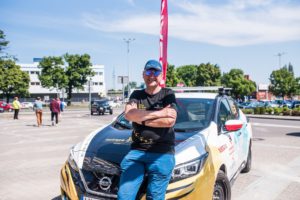 Marek commented: "For me, this journey is not just about reaching my destination. It is also about making a simple, brilliant change to be more sustainable.
"Whether in the wilds of Russia, on remote Mongolian dirt tracks or in the bustling streets of Tokyo, the LEAF has been a reliable partner throughout. The car and features such as ProPILOT were impressively capable in tough driving conditions. And even in remote areas with little infrastructure, we kept the LEAF charged and on the move.
"The LEAF gave me the opportunity to stick to my pledge and travel without a trace. So I hope that this is a step forward on the journey towards sustainable mobility."
Gareth Dunsmore, Electric Vehicle Director, Nissan Europe, added: "We believed that his journey demonstrates how, by using an electric vehicle, people can drive huge distances in comfort whilst positively influencing the environment. And Marek has achieved just that.
"A 16,000-kilometer journey is a remarkable undertaking in any vehicle"
"It shows that we can leave no harmful trace on the environment – even on long journeys – and it is our hope that it will inspire people to travel in an environmentally friendly manner and embrace the potential of electric cars."
The Nissan LEAF is the best-selling electric vehicle in history. Its sales reached over 340,000 units since the first-generation model, launched in 2010. The new Nissan LEAF's introduction in Europe was in October 2017. Since then it has more than 41,000 unit sales. The new Leaf continues to extend this legacy, helping pioneer a sustainable future that unites intelligent power, intelligent driving and intelligent integration.