Jochi Kleint made an impression on spectators with the two double-engine Golfs of 1986 and 1987 at the Eifel Rallye Festival in Daun. The twin-engine, 489 kW (652 hp) 1987 Golf II was for the hill climb at Pikes Peak. It is the forefather of the I.D. R, which with its all-electric drive concept set an impressive new track record at Pikes Peak at the end of June. The Golf was received with enthusiasm by 40,000 spectators. The 1986 version of the double-engine Golf also set its wheels on the "Festival Parade" and selected special stages.
"The informal atmosphere here is overwhelming. Especially since both cars participated in the same event together for the first time ever," said Kleint.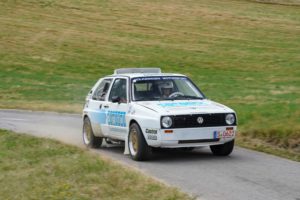 The Golf of 1986 and 1987 line up together for the first time
Kleint steered the twin-engine Golf to within a few metres of the finish line in the famous "Race to the clouds" in 1987, before he was forced to retire with suspension damage.
Volkswagen's Pikes Peak program recorded several significant records and milestones during the last couple of months. The fully electric I.D. R Pikes Peak achieved a new record on the legendary mountain hill climb. It also set a new record in the electrics category at the Goodwood Festival of Speed.
Full throttle from 1987! #volkswagen #racing #speed #throwback pic.twitter.com/4hdiEwrE9T

— Volkswagen (@Volkswagen) July 19, 2018