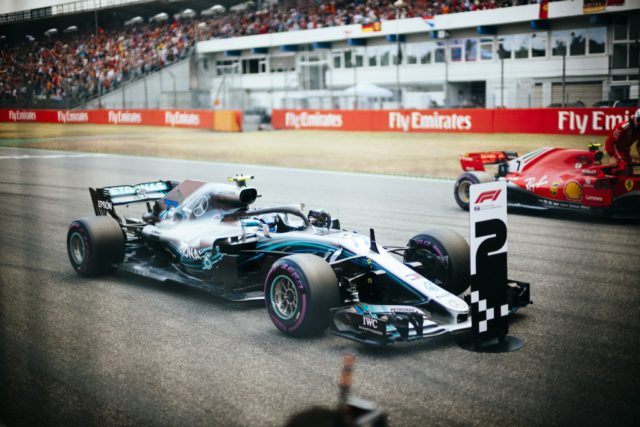 Valtteri Bottas qualified in P2 for the German Grand Prix but admitted that the Ferraris had the pace on Saturday afternoon. Initially it looked like his time might even be good enough for pole, until the Ferrari's final lap found an extra two tenths on the Mercedes.
"It felt like a good lap, especially in the last sector," Bottas said. "But I don't think pole was up for grabs for us today. "I gave it all, but unfortunately they were a bit too quick," he admitted. "Of course maybe we can speak about hundredths, but not a couple of tenths."
But while Ferrari had the edge in qualifying, Bottas remains optimistic that the Silver Arrows could be back on top at Hockenheim on Sunday.
"We've been working on our starts and made good progress," he added. "I will focus on getting that one position back, and the race start could be the best option. We're starting on the same compound for this race so it's definitely going to be crucial. Race-pace wise I think we're going to be close.
"But the Ferraris have been producing really good starts this season," he acknowledged. "We'll find out if we have closed the gap. For us at Mercedes, Hockenheim is a home race, so I will give it my best tomorrow."
Bottas also expected his team mate to make an appearance toward the front at some point in the race.
"Lewis will try and get as far up as possible," he said. "We've seen in the previous races that he's capable of that."
"That was a tough qualifying session for us today," said Mercedes principal Toto Wolff. "We were fighting with one hand tied behind our backs after losing Lewis' car so early in the session.
"For Valtteri, it was a mega final lap that put him on provisional pole," he continued. "Especially in the third sector, where he was fastest of everybody by a big margin. But Sebastian and Ferrari were just that bit stronger than us today. They were particularly strong in the middle sector.
"It's clear they have found a lot of power in the last races," he conceded. "We need to catch up. It will be a challenging race tomorrow," Wolff predicted. "We saw very close matched long runs from everybody in practice yesterday. The conditions will be cooler, so it will be interesting to see if and how that changes the competitive order."