This autumn's Dayinsure Wales Rally GB (4-7 October) will not only be making history but also celebrating rallying's illustrious history.
As recently announced, for the very first time on the British mainland, closed sections of public roads in the event's official host county of Conwy will witness the spectacle of high-octane World Championship motorsport.
The latest generation of WRC cars – the fastest machines the sport has ever witnessed – will be joined by a dazzling showcase of iconic rally cars from celebrated ages in the past.
Whetting appetites for the event's momentous finale, which will see the WRC stars racing against the clock around the famed Great Orme and then through the streets of Llandudno, a very special Rally Legends display will be based in the resort and open to the public throughout the rally weekend.
A certain British pairing won the @OfficialWRC2 class on Wales Rally GB back in 2013 ?#WRGB #WRC pic.twitter.com/zjSgL8Xldj

— Wales Rally GB (@WalesRallyGB) June 14, 2018
What's more, the thousands of fans attending the history-making street stage on Sunday morning will also see some of these fabled past masters
The display features much-loved luminaries from Group A, Group B, WRC and other epic eras. They will parade around the Great Orme and right into the heart of the picturesque town centre.
Guaranteeing a huge crowd, admittance to the new Great Orme Llandudno street stage is absolutely free of charge. Still, a limited number of Grandstand and Rally Xtra @ Llandudno upgrades are available for those eager for an even better view. That also allows experiencing all the attractions of hospitality.
"It's going to be a milestone weekend in British motorsport history and the presence of all these wonderful cars from yesteryear will be an integral part of an exciting rally festival in Llandudno," enthused Ben Taylor, Managing Director of Dayinsure Wales Rally GB.
"We will pay homage to the sport's glorious past and the famous names of Paddy Hopkirk, Roger Clark, Richard Burns and Colin McRae, but also introduce a new breed of rally fan to the amazing WRC of today."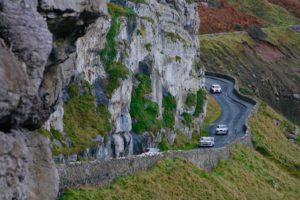 Owners of more than 80 outstanding retro cars have been invited
Many already have registered their desire to be part of such a milestone weekend. Others are welcome to register their interest via the competitors' section on the walesrallygb.com website. There, full details, plus an entry form, are available for download.
Admittance to the Rally Legends showcase and Great Orme Llandudno street stage is free. Tickets for the other 20 speed tests, including Thursday evening's floodlit curtain-raiser at Tir Prince Raceway, are now on sale. There are significant discounts for those buying now.
Adult prices start at just £15 with the premium four-day event pass remaining at £99 for the ninth successive year. Children (with an adult) aged 15 and under have free admittance to general admission areas.
Can't think of a better place to stay for Dayinsure Wales Rally GB! #WRGB #WRC https://t.co/mkDos1YENV

— Wales Rally GB (@WalesRallyGB) June 14, 2018