Dani Pedrosa announced that he is retiring from MotoGP at the end of the 2018 season. Here are 10 of the most memorable moments in his career.
Spanish Grand Prix, 2006
When Pedrosa was handed his MotoGP debut with Honda 12 years ago, critics suggested his stature (he is 5ft 2in-157.5 cm and weighs 51kg) was too diminutive for the sport and, aged 20, he was too young for the rigours of motorcycling's top flight. He duly silenced those critics with a podium finish in only his second race.
Chinese Grand Prix, 2006
In just his fourth race, Pedrosa parked his bike on pole but was pushed wide at the start and dropped well back. But showing remarkable maturity, he bided his time to wrest back the lead, which he never conceded, in the process became the second youngest MotoGP winner at the time behind Freddie Spencer.
United States Grand Prix, 2009
For over a year, Pedrosa had gone winless but, after Casey Stoner slid out on the warm-up lap, he took the reins at Laguna Seca and had to hold off late challenge from Valentino Rossi – just 0.3 seconds back at the chequered flag to ensure a ninth season in two wheels with at least one grand prix victory.
San Marino Grand Prix, 2010
The poignancy of the race stands out after the death of Japanese rider Shoya Tomizawa in the preceding Moto2 race. Understandably, Pedrosa's celebrations following his win proved muted having been broken the news of Tomizawa's death after his own race.
Portugal Grand Prix, 2010
The Spanish two-wheeler had clearly gone to Estoril in pain. A month earlier, he had undergone surgery for a damaged shoulder but, with just three laps remaining, he scythed past world champion Jorge Lorenzo to take the victory, what was his first of the season.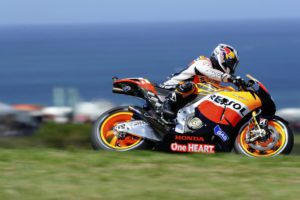 German Grand Prix, 2011
Riding through the pain barrier has been an ongoing theme in Pedrosa's career and he arrived for the race having undergone two operations on a broken collarbone. Having missed three races, he showed no rust and dominated at the Sachsenring. It was a pulsating three-way battle with Lorenzo and Stoner, Pedrosa edging ahead with eight laps left.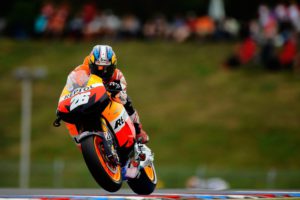 Czech Grand Prix, 2012
In one of the best duels of Pedrosa's career, he chopped and changed the lead with Lorenzo from the halfway point, the Honda rider making the telling move stick on virtually the last corner of the last lap of the race at Brno to close the gap in the title race on his countryman.
Malaysian Grand Prix Prix, 2012
The race proved something of a war of attrition, declared by organisers as a wet-weather race from the outset and one in which Pedrosa led from start to finish as his rivals suffered a variety of scares. It kept him nicely in the title battle. It capped a hat-trick of 2012 wins only for him to retire from the next race in Australia and concede the title.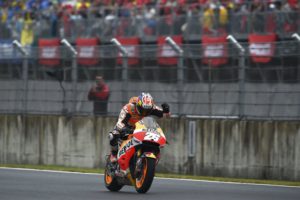 Japanese Grand Prix, 2015
Once more the rain came down, this time at Motegi, Pedrosa had little hope of making an impact at the front having started in sixth place and struggling to get heat into his tyres. But he bided his time. In what was meant to be an inter-Yamaha battle, he passed Valentino Rossi with nine laps left and Lorenzo two later.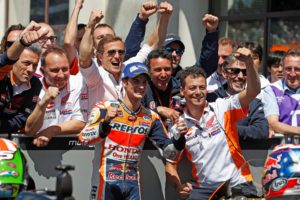 Spanish Grand Prix, 2017
When Pedrosa won only the fourth race of last season, it brought up a 53rd career win. But even more historic was the fact that ensured he had picked up at least one grand prix remarkably for a 16th consecutive season. It was his first home win for four years, capped with another in Valencia at the season finale.
Dani Pedrosa has announced he will retire from #MotoGP at the end of 2018 ?

One of the most successful riders of all time, #Pedrosa has the 3rd most podiums, 54 wins and 3 World Championships to date before he prepares to hang up his leathers.#ThankYouDani

#DP26 pic.twitter.com/ZCdGnDvG6n

— #GermanGP ?? ?️ (@Formula1_MotoGP) July 12, 2018