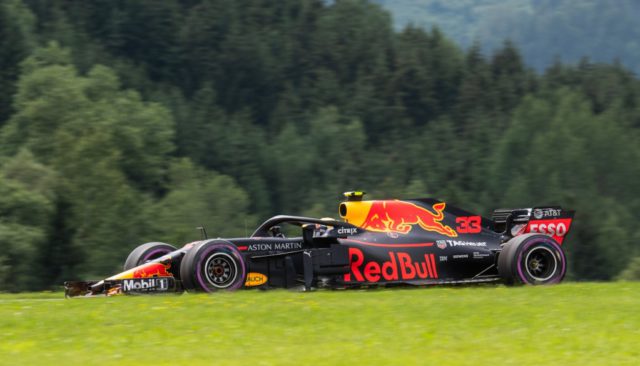 Max Verstappen has claimed victory at the Red Bull Ring for Red Bull, leading the Ferraris of Kimi Raikkonen and Sebastian Vettel home. As both Mercedes retired after problems.
Verstappen has claimed a dramatic win at their home race. He took over the lead due to a strategic error from Mercedes. A great start from Lewis Hamilton in Austrian Grand Prix saw the Mercedes driver take over the lead at the race start ahead of pole-sitter Valtteri Bottas. Raikkonen finished in P3 after an initially great getaway to challenge for the lead into the first corner.
An error from Raikkonen into Turn 3 allowed Max Verstappen to put the Ferrari under pressure. While Bottas capitalised to sweep back past the Ferrari into Turn 4. Verstappen then made light contact with the Ferrari's left rear through Turn 7 to take P3 from Raikkonen. Vettel lost positions to run P8 at the end of the first lap.
Mercedes, now running P1 & P2, initially looked quite good as they eased away to run 2.5 seconds clear of Verstappen, before Bottas pulled over at Turn 4 with a loss of hydraulic failure caused his gearbox to seize up.
The Virtual Safety Car was deployed to cover the recovery of the Mercedes, with Verstappen, Raikkonen, Ricciardo & Vettel all deciding to dive into the pits to make their pitstops, despite needing to double stack.
Hamilton, crucially, did not pit under the VSC and, when racing resumed a lap later, his lead over Verstappen was just 13 seconds. The order was Hamilton, Verstappen, Raikkonen, Ricciardo, Vettel. Ricciardo put in a great move on Raikkonen to go around the Ferrari into Turn 4 and move up behind his teammate.
11 laps after the Virtual Safety Car, the gaps remained virtually unchanged as Hamilton was unable to increase his lead over Verstappen and, when the Mercedes did come in to swap to the Soft tyres, he came back out in P4 and only a second clear of the Ferrari of Vettel. Verstappen was now 6 seconds clear of Ricciardo, leading the queue of Raikkonen, Hamilton & Vettel – all on the same Soft tyres.
It quickly became clear that Ricciardo was struggling with blistering on the Soft tyres, with Raikkonen all over the back of the Red Bull for the second consecutive weekend. Raikkonen succeeded in getting past Ricciardo to move up to P2. While Vettel was able to pile the pressure on Hamilton, despite Lewis' considerably fresher tyres.
While Red Bull & Mercedes were suffering from tyre blistering, Ferrari were not having the same problem and Vettel used this to pass Hamilton with relative ease into Turn 3. Ricciardo gave up on his planned strategy and pitted again for SuperSofts just past half distance, falling down to P5.
While Hamilton was able to shadow Vettel for a while after being passed by the Ferrari, he started to fall away and made his displeasure clear over the radio as he felt the race had been thrown away by his strategists.
He pitted again with 18 laps to go as he struggled with rear blistering too much.
Hamilton came out behind Ricciardo and was immediately promoted back to P4. The Red Bull suffered a mechanical failure and retired.
The same thing happened to Hamilton a handful of laps after that, suffering a similar looking problem to Bottas and he was told to stop the car between Turns 3 & 4.
It's the first time in the hybrid era that both Mercedes have retired with a mechanical failure. And it comes in the wake of the introduction of a new Spec '2.1' power unit at the last race in France.
Verstappen's lead over the two Ferraris was eroded in the closing laps as Raikkonen & Vettel threw everything at the Red Bull to try capitalising on the Red Bull's tyre blistering but, ultimately, ran out of time. Raikkonen set a new lap record on the final lap. But he finished 1.5 behind Verstappen, with Vettel a further 1.5 behind his teammate. With no apparent team orders issued by Ferrari to swap places.
It was a great day for Haas, too, as they took over the mantle of best of the rest. Romain Grosjean finally scored points this year, taking P4 and 3.5 clear of Kevin Magnussen. Esteban Ocon finished P6 for Force India, ahead of his teammate Sergio Perez.
Fernando Alonso, having started from the pitlane and struggling for pace early in the race, finished P8 for McLaren. While Charles Leclerc finished in the points yet again by taking P9. Marcus Ericsson took the final points finish – a double points finish for Sauber.
Pierre Gasly was P11 for Toro Rosso, while Carlos Sainz finished P12 on a disastrous day for Renault. His teammate Nico Hulkenberg retired with an apparent engine failure early in the race. Sainz suffered a slow pitstop that took him out of the points and towards the back of the field. But his recovery wasn't enough to claim some points.
Lance Stroll & Sergey Sirotkin were P13 & P14 respectively for Williams, and Stoffel Vandoorne was the last classified finisher. He fell to last very early on as he collided with Pierre Gasly at Turn 3 on the opening lap. And he broke his front wing.
With Mercedes failing to score points, they have lost the lead of the Constructor's Championship to Ferrari, while Sebastian Vettel resumes the lead of the Driver's title chase. The next race in at Silverstone in Britain next weekend.
? TOP TEN (CHEQUERED FLAG) ?

VER
RAI
VET
GRO
MAG
OCO
PER
ALO
LEC
ERI#AustrianGP ?? #F1 pic.twitter.com/JlJjC2Ik6D

— Formula 1 (@F1) July 1, 2018