For Romain Grosjean, there is added incentive in the French Grand Prix. It's a home race for the seven-year Formula One veteran, who seeks to become the first Frenchman to win a Formula One race since Olivier Panis won the 1996 Monaco Grand Prix.
You raced at Circuit Paul Ricard in a GT car. When was that, what team was it for and what do you remember about the race?
"It was in 2010 with Matech Competition. I don't think we had an amazing race, but it's great to be going back there racing."
How do you prepare for a venue you've never been to before in a Formula One car?
"The simulator is our only option, and I spent last Wednesday in the simulator."
How does the simulator compare to actually being in a racecar, at speed, at a circuit?
"It gives you a rough idea, but it's not initially super easy when it's a new circuit because the correlation may not be at its best. It gives you an idea where it goes, but it's not like Barcelona, for example, where we do the same lap time and get the same feeling."
Is the simulator most used for understanding a circuit's layout and braking points, or is it more involved than that?
"It's more involved than that. It's more for the setup of the car and for developing the car rather than for driver feedback, or the driving itself."
"Actually, it's the opposite. The more experience you have, the more you can prepare for a new venue. We'll do our best. We're in a good place with the car, so I think we should be good."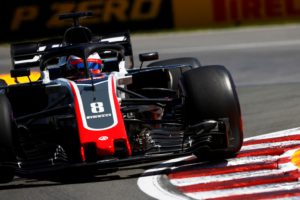 The French Grand Prix is your home grand prix. You've talked about how much you're looking forward to it, but now that it's here, what are your expectations?
"I want to get a good weekend, have some luck, get my first points of the season, and get a lot of support from the fans."
As much pride as there is with a home grand prix, there are also more demands on your time. How do you balance all of the outside influences with what you need to do behind the wheel of your racecar?
"Well, we go to a grand prix to race, and to race well. That's the number one priority. Of course, I want to give as much as I can to the fans, but the racing on Sunday is what I'm going for, and that's what we need to focus on."
While the most recent grand prix in Montreal didn't produce the result you would've liked, it did seem to be a race weekend where you felt the most comfortable in the racecar. Is that accurate? If so, was there anything in particular that made you feel right with the car?
"I liked the updates we had. It really felt like it gave me what I was lacking earlier on in the season. I thought P7 in Montreal would be ours. Not being able to qualify didn't help us, but we made up a lot of ground in the race. Unfortunately, there was too much ground to make up."
Not sure if you noticed but we have a big race this weekend! #R8G #FrenchGP #F1 pic.twitter.com/hRDmkOTZvo

— Romain Grosjean (@RGrosjean) June 18, 2018
Does the feel you had in the car at Montreal make you look forward to Circuit Paul Ricard – another power circuit where the attributes of the Haas VF-18 can be exploited?
"I think we should be in a nice place at Paul Ricard. I'm always looking forward to jumping back in the car. I just love driving an F1 car."
Haas F1 Team brought significant upgrades to its racecars in Montreal. How did they improve the car and what are your expectations for how they'll perform in the French Grand Prix?
"Hopefully, they'll be even more powerful at Paul Ricard than they were in Canada, just because of the downforce. They gave us some front-end on the car, and that really helped me."
The French Grand Prix marks the beginning of an unprecedented three-race stretch. What are your thoughts on this batch of races, and how do you balance the travel and time at the track with your home life?
"It's going to be challenging, it's going to be tough, and very tiring. Hopefully, we start on a positive at Paul Ricard and we can keep that positive, which will make three weeks much easier."
There is talk of increasing the number of races on the Formula One calendar, exceeding the current slate of 21 races. What is your take on the number of races in Formula One, and do you have an ideal number in mind?
"No, not really. I love racing, but it's tough on everyone when we've got to travel a lot. Probably the first thing would be to get a calendar where maybe Australia wasn't on its own as a race, and maybe, attached to somewhere like Singapore, or wherever in Asia, so you don't have to do so much travelling. But I imagine it's quite complex to put a calendar together."