The Alfa Romeo Sauber F1 Team is heading out to one of the most glamorous and iconic destinations of the season – Monte Carlo. The race has been a regular appointment on the world championship calendar since 1955. The Grand Prix will have further special meaning for the team. It is the first Formula 1 home race for the Monegasque rookie, Charles Leclerc. Both of the team's drivers look forward to the weekend, with encouraging results over the past few weekends having given the entire team a motivation boost.
"There are a lot of emotions for me, with my first Formula 1 Monaco Grand prix coming up this weekend", Leclerc commented.
Earlier this morning, @Charles_Leclerc presented his helmet to Prince Albert II of Monaco. What an honour it must have been ? #F1 #MonacoGP pic.twitter.com/F7CjgF9Y1L

— Sauber F1 Team (@SauberF1Team) May 22, 2018
"I have dreamt of being part of this event ever since I was a child and it is incredible for this dream to finally come true. It will be nice to have my friends and family there to support me, and I look forward to sharing this special moment with the Monegasque people."
"Driving on city circuits is something I always enjoy, and I love the challenge that it brings to me as a driver. Although I know the city well, it will be a completely new experience for me to drive on the streets of Monte Carlo in a Formula 1 car. I look forward to gaining a different perspective on my hometown. It will be an unforgettable weekend for me, and I can't wait for it to start."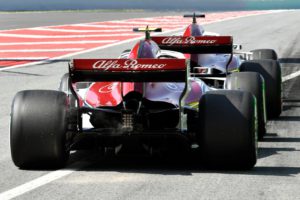 Leclerc: There are a lot of emotions for me, with my first F1 Monaco Grand prix coming up
Marcus Ericsson added that Monaco is always one of the highlights of the season – a very special and unique race.
"Driving on the streets of Monte Carlo is always an amazing experience and a fun challenge as there is no room for errors. As a driver, it is important to have a lot of confidence in your driving. You have to build up your speed over the weekend, and get closer and closer to the limit. It is also a challenge for the teams to find the right set-up and balance. I really look forward to going to Monaco – it will be a fun weekend", Ericsson said.
Good morning from lovely Monte-Carlo? Not a bad office view eh? ? #F1 #MonacoGP pic.twitter.com/pJS3ENZ5w5

— Sauber F1 Team (@SauberF1Team) May 23, 2018