Max Verstappen returned home to take part in the Jumbo Racedagen at the Circuit Zandvoort once again, but this time he brought some friends with him. The Dutch F1 sensation, 20, turned up with teammate Daniel Ricciardo and former Red Bull Racing driver David Coulthard for three show runs.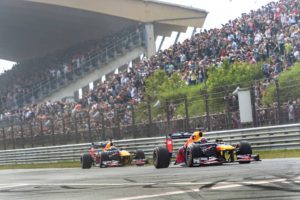 The Live Demo team unleashed the RB7 and RB8 for the three drivers to speed around the track and burn some rubber. There was also time for Verstappen and Ricciardo to recreate their caravan battle from 2017 in Spielberg.
The duo fired up their Aston Martin Vanquish convertibles and sped around the track pulling their stripped-out caravans painted in Red Bull Racing livery.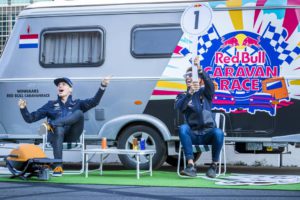 "There were a lot of people which was good to see. Daniel's caravan is not a caravan anymore which is a good sign. It is completely destroyed! Mine is only running on one wheel now", Verstappen said.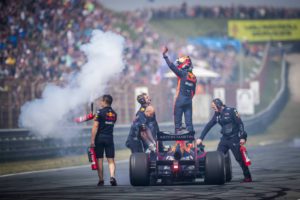 Jumbo Racedagen is the only opportunity to see Verstappen driving his F1 car in his home country of Holland.
Circuit Zandvoort, set by the sand dunes to the west of Haarlem, has not hosted a Formula One Grand Prix since 1985 when Niki Lauda proved victorious.
In 2017, Verstappen blitzed around the track to set an unofficial best time of 1:19.511 minutes.
Verstappen and Ricciardo now head to Monaco for the legendary road circuit around the Principality.
Verstappen and Ricciardo behind the caravan wheel: the Zandvoort edition
A triple treat ? Thank you for an awesome day Zandvoort! ??? #givesyouwings pic.twitter.com/gXCpRIrEmO

— Red Bull Racing (@redbullracing) May 20, 2018
These happy campers aren't holding up any traffic… ??? #RaceDagen pic.twitter.com/1HSO4hFNyF

— Red Bull Racing (@redbullracing) May 20, 2018