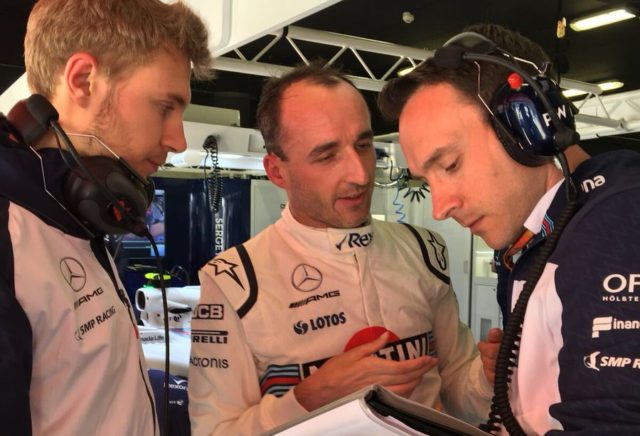 Robert Kubica said he felt embarrassed with the lack of pace in the Williams FW41 during his FP1 session at the Spanish Grand Prix.
The Pole finished second bottom on the FP1 timesheet with fellow Williams driver Lance Stroll propping up the rest at the Circuit de Catalunya.
Kubica was making first official Formula 1 appearance in 8 years after his long road back to recovery, but the car he had to wrestle with did not make it a particularly memorable return.
"It has been a difficult session for us with difficult balance. Some we were expecting but not as bad. It was a bit of a shock for me, Kubica told Sky Sports F1 back in the paddock. But actually I felt comfortable, although it is difficult to be comfortable in such a difficult balanced car to drive and difficult conditions.
I think I did what I was asked and I am happy with what I delivered. I know I'm 19th but sometime you have to realise that there are priorities and although the conditions and car balance was very, very difficult, I managed to drive well. Although, I felt embarrassed when I was driving inside the car because it was so difficult and I felt so slow in some places. But we couldn't do more."
But, despite his gripes with the FW41, Kubica said the session was a useful one for him to assess his own limitations as he continues to try and earn a full-time return to Formula 1.
He added: "That is a good test for me. Because you need to understand where is your limits and where is the limit of the car. In my position when I have to deliver feedback and cannot do silly things. I'm happy by how I reacted to those conditions.
I was expecting to have bigger emotions. I had much bigger emotions in the past when I was testing for the first time or even in Abu Dhabi. Although I'm not driving often, it is becoming natural. For sure it's nice to be in an official session of a grand prix weekend."