Valtteri Bottas received the prestigious Bandini Trophy in Brisighella, Italy. The award went to him in recognition of his breakthrough performance; securing both his first Formula One race wins and pole positions in 2017. The current campaign has seen a very consistent performance by the Finn, who came home second in both Bahrain and China and missed the win in Azerbaijan when his tyre punctured with only three laps to go. Bottas is the 25th recipient of the trophy.
Established in 1992, the Bandini Trophy is given out by Associazione Trofeo Lorenzo Bandini
The award is in memory of the Italian racing driver Lorenzo Bandini. A race winner in both Formula One and the 24 Hours of Le Mans, he tragically lost his life at the age of 31 in the 1967 Monaco Grand Prix. The recipient of the prize is chosen by a jury of 12. It includes Giancarlo Minardi, founder and former Managing Director of the Minardi Formula One team, Italian motorsport journalist Pino Allievi as well as Cesare Fiorio, former sporting director for Ferrari, Ligier and Minardi.
The awards ceremony commenced on Saturday afternoon. Valtteri took the team's 2016 F1 W07 Hybrid on a 12-kilometre drive through the Northern Italian countryside. Bottas started in the city of Faenza, home of the historic Minardi F1 team. Then he headed south towards Lorenzo Bandini's hometown of Brisighella. Police safely escorted the Finn, making sure he didn't show the full performance of the Silver Arrow. The W07 won 19 out of the 21 F1 races in 2016. Mercedes took both the Drivers' and Constructors' Championships.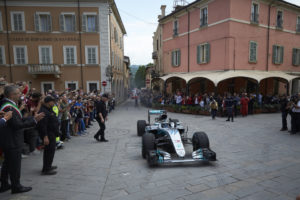 As Bottas left the Piazza del Popolo in Faenza in the W07, the picturesque village of Brisighella was already buzzing as a large crowd gathered for the parade of historic racing cars
The highlight of the day was the awards ceremony in the evening. There Lorenzo Bandini's wife Margherita Freddi handed Valtteri the prestigious trophy in Brisighella.
Upon receiving the trophy, Bottas said:
"This is a big honour. I saw the list of drivers who received the Bandini Trophy before. There are some really impressive names on that list – just think of the total amount of championships these people have won! So I feel very honoured to now be a Bandini winner myself. I had some good moments last year and it's nice to be recognised for those. Driving the 2016 car on the roads just added to the excitement of this great day."
Bottas was not the only member of Mercedes with a trophy. Aldo Costa, Engineering Director of Mercedes-AMG Petronas Motorsport, and Riccardo Musconi, Senior Race Engineer on car #44, received the European Community Award at the event in Brisighella.
About last night…

Trofeo Bandini ????#VB77 #trofeobandini@MercedesAMGF1
? S.Etherington pic.twitter.com/VuVEoAVnd5

— Valtteri Bottas (@ValtteriBottas) May 6, 2018