Movistar Yamaha MotoGP is at the Circuito de Jerez for the first European round of the 2018 MotoGP World Championship, which will be a special event in more ways than one. The Gran Premio de España is famous for its enjoyable atmosphere at the venue, and this year the team hopes its guests will be even more satisfied with their GP experience as Yamaha Factory Racing unveils its new hospitality for the very first time.
Besides being structurally sound, the new hospitality unit has a special design to offer a functional layout conforming Yamaha's style. The base of the project was the input from the hospitality team members. They followed the development from the very beginning till the final assembly at the beginning of March.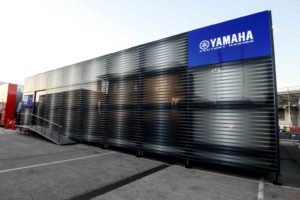 The new unit has a sleek look on the outside. Once visitors come through the front door with grey stripes, they discover a clever floorplan. The single-floor construction has an over 19m x 16.5m central area, with an internal height going up to over 4.3m. The accommodation with stylish decoration is multi-purpose. It houses the bar and can either host a restaurant that offers a buffet and seats up to 80 people, or it can turn into a conference/event room.
The reception area is fenced by three semi-trailers for trucks, which are for team-use only. Two of them double as offices and are in position parallel on either side of the central area. Meanwhile the third is in use as a kitchen, placed transversally at the back of the structure.
The new hospitality also comes equipped with some of the latest technology. The unit offers its visitors non-stop entertainment with its high-quality audio, TV and Wi-Fi facilities. Yamaha Music Italy stepped in to lend the team its expertise on audio and video equipment and provided the latest AVI (Audio Video Interleave) system.

Yamaha Factory Racing unveils its new hospitality for the very first time
Moreover, the hospitality features remote-controlled mood lighting and an air treatment system that improves the air quality through purification and regulation of temperature and humidity, all aimed at making Movistar Yamaha MotoGP Team's guests as comfortable as possible.
Furthermore, Yamaha Factory Racing received an official approval of their new hospitality unit by TÜV ITALIA Srl.
The inspections were aimed at analyzing and verifying the documentation produced by Maco Technology, Maccarinelli, Tensoforma and Sixtema for the design and subsequent realization of the hospitality accommodation, according to the EN 13785:2015 standard. After the evaluation, it was verified the new hospitality withstood the various tests and passed the safety regulations.
Positive vibes in our new hospitality.@valeyellow46 and @maverickmack25 exchange helmets at the start of the #SpanishGP weekend.#MovistarYamaha | #MotoGP pic.twitter.com/ReMn8yivRF

— Yamaha MotoGP (@YamahaMotoGP) May 3, 2018