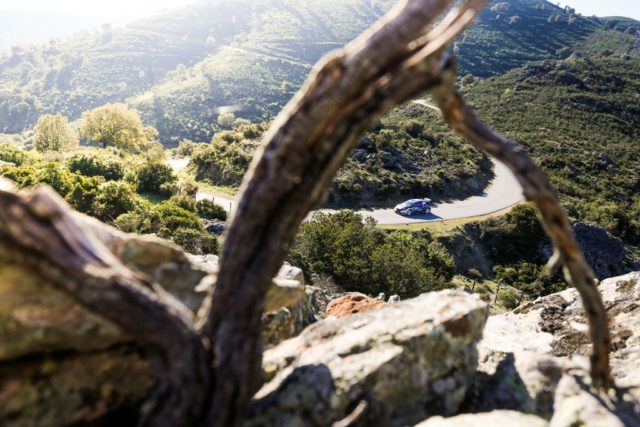 M-Sport Ford World Rally Team has enjoyed a strong start to this year's FIA World Rally Championship. After three events, the team have secured two victories and will be chasing a third at the Tour de Corse.
Making the most of the increased technical support from Ford Performance, the Rally Mexico winning Fiesta made its way to Indianapolis in America earlier this month. There it underwent some aerodynamic research and development at the Blue Oval's state-of-the-art wind tunnel.
With attention on the first pure asphalt event of the year, the team also spent last week conducting a comprehensive test in Corsica – targeting specific set-ups to ensure that Sébastien Ogier, Elfyn Evans and returnee Bryan Bouffier are best prepared for the challenges ahead.
But the wintry weather struck once again. The test team was stranded in Heathrow overnight which meant the five-day test was reduced to just four. Despite the delay, the Cumbrian squad remain well prepared and the crews determined to make their mark on the Rally of 10,000 Corners.
With Sébastien Ogier leading the drivers' standings, Julien Ingrassia leading the co-drivers' standings and the team just 12 points shy of the lead in the manufacturers' standings, M-Sport Ford World Rally Team are keen to deliver another strong result next week.
The competition will be tough, but M-Sport Team Principal Malcolm Wilson is confident that his team has the potential to deliver another strong performance
"With two wins from the first three events, we've got our season off to another fantastic start and hope to see that continue at Tour de Corse", Wilson said.
"Sébastien, Elfyn and Bryan all really enjoy this event and all have some impressive results to their names in Corsica. We'll be hoping that plays to our advantage, and I'm looking forward to seeing what each of them can deliver."
"Leading the championship, Sébastien is exactly where he needs to be and well-placed to challenge for a top result. Elfyn and Bryan's road position could put them at something of a disadvantage, but I know that they are both hungry for a strong result."
"The competition will be fierce, but we've made a lot of progress and have the potential to deliver another strong performance. We all know how challenging this event can be, but we're well prepared and determined to deliver once more."
Who's ready for some asphalt action?

In just over a week we'll see the Ford Fiesta WRC powering through the legendary stages of the @TourdeCorseWRC, but until then, check out our testing video.#WRC #FordPerformance #TourdeCorse pic.twitter.com/mFkE8oY4Fh

— M-Sport (@MSportLtd) March 28, 2018
Bryan Bouffier and Xavier Panseri will be making a welcome return to the team
Having made their debut with the Ford Fiesta WRC at Rallye Monte Carlo earlier this year, the pairing will be looking to translate all they learnt into a positive result at the Tour de Corse. Having contested this rally on seven previous occasions in various championships, the crew has good knowledge of the event and secured victory as part of the FIA European Rally Championship in 2013.
"The Tour de Corse has long been one of my favourite events. The roads are amazing, but so is the island and so are the people who live there. It's a fantastic rally and one that I look forward to every year", Bouffier explained.
"We had a good test where I found a good feeling with the balance of the car. Working together with the team, we were able to find some good solutions with the set-up, and I hope that hard work will show on the stages. Every time I return to WRC the level is extremely high, but this year the competition is stronger than ever and there are so many drivers able to push for the top results."
"The specific challenge in Corsica is to be consistent through the long stages and to avoid mistakes. That is our goal and we hope to deliver some strong times so that I have the chance to do even more kilometres in this amazing car!"
Congratulations to Bryan Bouffier, who won the R5 class of the Rallye Le Touquet on his debut at the wheel of an i20 R5, taking the best possible result from the first rally of the French Tarmac season with Hyundai customer team CPI Racing.

— Hyundai Motorsport (@HMSGOfficial) March 17, 2018