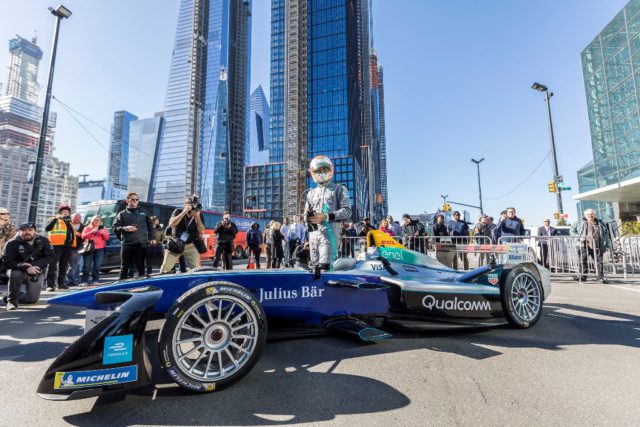 Formula E hit the streets of New York to launch this year's edition of the New York International Auto Show. For the first time, the official championship car has run on the roads of Manhattan ahead of the New York City E-Prix on July 14 & 15. These will be the final two rounds of the 2017/18 ABB FIA Formula E Championship.
The fully-electric Formula E car led a fleet of electric vehicles along 11th Ave. to the Javits Center on the west side of New York with season one champion
Panasonic Jaguar Racing driver Nelson Piquet Jr. was behind the wheel.
Running parallel to the Hudson River and the backdrop of Midtown Manhattan and the Empire State Building, the parade also featured the Jaguar brand's first all-electric vehicle – the Jaguar I-PACE performance SUV.
The Jaguar I-PACE will arrive at retailers later this year. A modified race-ready version is set to make its debut in a new all-electric support series. They will be a part of the Formula E weekends next season. The series has the title Jaguar I-PACE eTROPHY.
? ?? @NelsonPiquet #JaguarElectrifies #NewYork pic.twitter.com/NTP0ZRHZYK

— Jaguar Racing (@JaguarRacing) March 31, 2018
The ABB FIA Formula E Championship is returning to Red Hook in Brooklyn for the second time. The inaugural event was last summer. Then Formula E made history with the first FIA-sanctioned single-seater race taking place within the five boroughs of New York City in modern history.
As part of a long-term vision, the cars will navigate a slightly different route this year
There will be an extension to the track in a bid to cater to the next generation of faster and more efficient cars next season. The extension will mean as well adding further overtaking opportunities.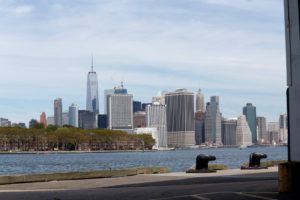 The change is as follows: instead of taking the sharp hairpin at Turn 6 the drivers will tackle a left-right complex at the North end of the circuit. This way there will be four extra corners while lengthening the track to 1.52-miles (2.45-km).
Tickets for the season finale of the 2017/18 season in New York go on sale next week on April 3. Grandstand tickets are priced at $85 per day or $150 for a combined weekend ticket. Children aged 12 and under can enter for free while students can watch all the action from $55 per day or $95 for both races.
Fans attending the New York Auto Show this weekend can purchase tickets early by using a promotion code. It is available at the dedicated Formula E stand at booth 1522 on level 1.
Nelson Piquet Jr, Panasonic Jaguar Racing driver, said:
"To be the first to drive the Formula E car on the streets in Manhattan has been a lot of fun. I love this city and I've enjoyed the opportunity to promote electric vehicles like the new Jaguar I-PACE and launch the race returning to Brooklyn. The new track layout will make the racing more competitive. And New York is the perfect place for the finale of the championship in July."
Our man @NelsonPiquet couldn't leave New York without enjoying a doughnut! ??? #JaguarElectrifies #ABBFormulaE #NYCEPrix pic.twitter.com/xPJDB1LWsf

— Jaguar Racing (@JaguarRacing) March 31, 2018