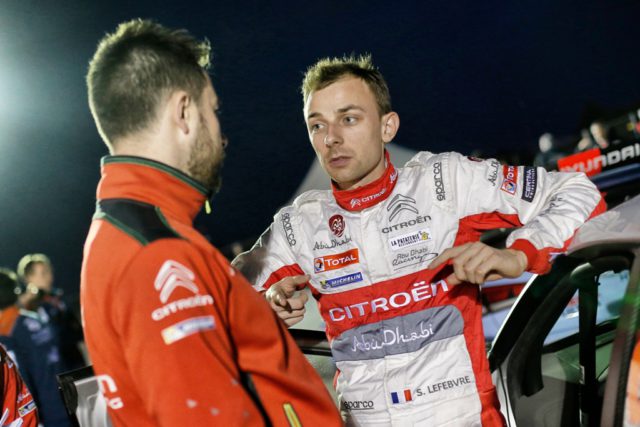 The Citroen C3 R5 will be looking to add more good results to its competitive record as the WRC heads for Sardinia. Stéphane Lefebvre – Gabin Moreau will have the support on this outing of Simone Tempestini – Sergiu Itu, winners of the 2017 Citroen Ultimate Challenge.
In Sardinia, there's need of unerring reliability, along with great precision behind the steering wheel. That will be the task at hand for Stéphane Lefebvre and Gabin Moreau, following on from their encouraging first outing on gravel less than two weeks ago in Portugal. On the roads around Porto, Stéphane and Gabin scored a stage win. They twice held the category lead before ultimately securing a second consecutive WRC2 podium (3rd) for the C3 R5. The first top 3 classification was the runner-up spot of Yoann Bonato and Benjamin Boulloud in Corsica.
"After a promising debut on gravel in Portugal, the C3 R5 is now tackling another heavyweight challenge on the generally demanding, hot roads of Sardinia. But we come into this event well prepared. We have conducted three days of testing here, including two just for Stéphane and Gabin. We are, therefore, trying to get them in the best possible shape for the rally so that they can produce a performance that is at least as good as the one they managed in Portugal", Citroen Racing Team Principal Pierre Budar said.
Lefebvre: "The aim is to get the same good feeling we had in Portugal as quickly as possible"
Lefebvre added: "I don't have much experience at this rally. But I remember that you have to be very careful and not get too carried away. The stages are narrow, technically difficult and also pretty rough, with plenty of loose stones. The itinerary has changed a lot since 2015. That is the year when I had my only previous appearance here. However, thanks to the onboard footage available on WRC +, I have managed to do quite a lot of work and confirmed the pace notes taken in recce last year. So that we're not completely leaping into the unknown. The aim is to get the same good feeling we had in Portugal as quickly as possible, so we can fight at the front again."
Podium for @SLefebvreRallye and @moreaugabin! 3rd in #WRC2! pic.twitter.com/iV3IOBE1XV

— Citroën Racing (@CitroenRacing) May 20, 2018