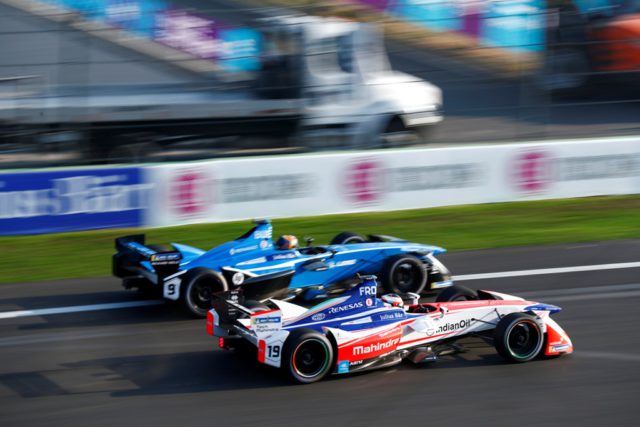 A last-minute addition to the 2017-2018 calendar, the ABB FIA Formula E Championship returns to Punta del Este for the 3rd time after a year's hiatus. Often referred to as the Monaco of South America, the exotic seaside location will play host to the 6th round of the championship. Currently, in 2nd place in both the Drivers' and the Teams' Championship, Mahindra Racing are looking forward to getting back into the arena and shaking off the disappointment that was the Mexico City ePrix.
The 2.8km street-circuit is one that proves to be a bit of an unforgiving challenge for the drivers, who have to commit themselves a lot more on this track with it's high-speed, high-risk layout, sun, and occasional waves of sand that get blown onto the track.
Hola! From sunny #PuntaDelEste #Uruguay #mahindrabear pic.twitter.com/K3Fn6YXNUP

— Mahindra Racing (@MahindraRacing) March 15, 2018
Felix Rosenqvist visits Punta Del Este for the first time
He is relishing the thought of sinking his teeth into a new venue. And that one that is a pure street circuit, so that he can throw himself into the fray and reclaim his lead in the championship.
"Not much has changed for Punta in my approach even if we had the massive set back in Mexico", Rosenqvist said. "It was out of our hands, so it's actually nothing to learn from, as we did a perfect job. And that's what I want to do in Punta as well: a weekend without mistakes, failures. The track looks awesome and my gut feeling says it will suit me well!"
Coming off two races that saw him not reach the finish line due to technical and on-track issues, Nick Heidfeld is charged up
He is only looking forward to tackling the tricky track, calling on his experience, precision and ability to get around a track quickly.
"I'm looking forward to going back to Punta as I missed the last race we had there due to my wrist injury two years ago. Even by Formula E standards, it's a crazy circuit with all the chicanes. It is special to be literally next to the beach; which will obviously also make circuit conditions tricky at times", Heidfeld commented.
Team Principal Dilbagh Gill added: "According to me, Punta Del Este is a drivers' circuit and since we have two great drivers in Felix and Nick, I think it'll be a good race for Mahindra Racing!"
A well fed team is a happy team. A happy team, is ready to race and have their #eyesontheprize ! #vamos! #FormulaE #Uruguay #PuntaDelEste pic.twitter.com/b3617G3ZCU

— Mahindra Racing (@MahindraRacing) March 16, 2018