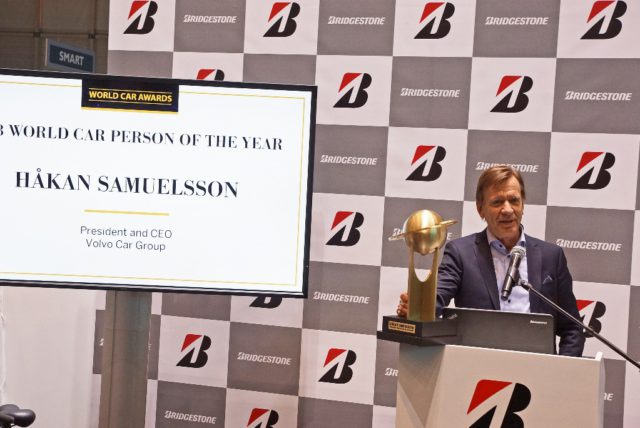 Hakan Samuelsson, Volvo Car Group's president and chief executive officer, received the inaugural "World Car Person of the Year" award.
Hakan Samuelsson commented:
"I see this award as an acknowledgement of the efforts made by the entire Volvo Cars organisation in recent years."
"When deciding who should win this first-time award, we weren't concerned about the age, nationality or job title of the man or woman concerned. We simply wanted to identify the most worthy individual in the industry", World Car Vice-chairman Mike Rutherford elaborated.
"There's been a lot of positive news lately. We had a good year last year with strong profitability, successful car launches and now the XC40 is Car of the Year." – Håkan Samuelsson, President & CEO #VolvoCarsGIMS pic.twitter.com/yL2rxwBPsp

— Volvo Cars (@volvocars) March 6, 2018
Hakan Samuelsson is someone who – against the odds – has successfully integrated his relatively small company into an automotive empire based on another continent
And, as a result of this unlikely but seemingly happy marriage, both sides have emerged considerably stronger.
At the same time, Mr. Samuelsson has maintained his brand's identity and relative independence, as well as thoroughly reviving his product line-up. This way he ensured that it's a super-strong competitor in the premium sector. Meanwhile, the brand still maintains a presence at the more affordable end of the market.
In short, he has made Volvo an aspirational brand again.
He's a car guy, of course. But more than that, he's an engine, tech, industrial and restructuring expert. Also, he reinvigorated his company's public image as a clean, green, lean, safety technology leader. And as his current balance sheet proves, he knows how to create healthy profits.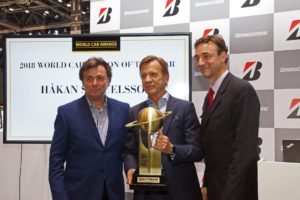 Nicknamed the 'The Disrupter' (a label he says he's very proud of!) he's announced a bold electrification strategy. It includes a combination of pure-electric and petrol-hybrid vehicles from next year onwards. He enthusiastically promotes the notion that there's no need to buy his cars when you can instead take out a subscription to use them! And, for good measure, he oversees an exciting, just-launched sub-brand, too.
The World Car community brings together a large cross-section of experts and professionals from every segment of the automotive industry. World Car connects the global industry around the very best of today and inspires, with insights, the ideas and trends of tomorrow. That is a second consecutive award for Volvo after the XC40 became European Car of the Year.
Extremely proud that the new #XC40 has been named 2018 Car of the Year. Even happier that it's the first time ever for @volvocars #XC40CarOfTheYear pic.twitter.com/LACtTF38Ed

— Håkan Samuelsson (@hakan_samuel) March 5, 2018