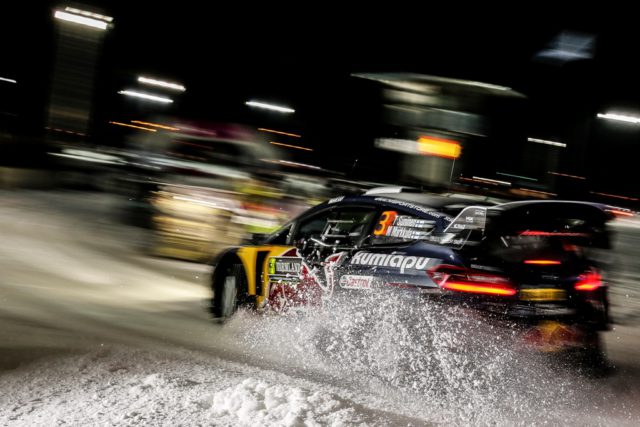 M-Sport Ford endured a frustrating Rally Sweden with little hope of challenging for a strong result. The team's crews were at the mercy of the conditions as they were sweeping a clean line through the fresh snow. M-Sport pointed out that there were still Fiesta drivers who enjoyed the taste of champagne. Takamoto Katsuta in a Ford Fiesta R5 took victory in the RC2 class and WRC2 category. Sweden's Dennis Radstrom delivered a popular home win behind the wheel of his Ford Fiesta R2 in the RC4 class and FIA Junior World Rally Championship.
"We knew that this event would be difficult, especially if there was fresh snow on Friday, but we faced a bigger disadvantage than I think any of us had expected. If you look at who succeeded at Rallye Monte Carlo and who struggled in Sweden, it's clear that our pace was down to the conditions and little to do with the cars or the drivers", team principal Malcolm Wilson said.
"There's nothing anyone could do about it, and the organisers put on another fantastic event with a great fight at the front. But we had no chance of making an impact and challenging for a strong result ourselves."
"With nothing to lose we had to try and salvage something so the team made the decision to delay Sébastien [Ogier]'s start for the final stage – giving him an equal chance of securing some Power Stage points. We can all take encouragement from his second fastest time through that stage. It gives him four additional points for his championship defence and proves that we would have had the pace were the weather not working against us."
"I must also send my congratulations to Takamoto and Dennis. The main team might not have been able to challenge for victory this weekend, but these two youngsters ensured that there were still plenty of Fiesta drivers enjoying the taste of champagne here in Sweden. Hailing from the host town of Torsby, I know that Dennis' victory will mean a lot to him. And Takamoto has been superb. He's the first Japanese driver to win a WRC2 round, and it's great to see him secure such a landmark victory with the Fiesta."
Teemu Suninen got the best result for the M-Sport Ford team
He and co-driver Mikko Markkula were eighth in the overall standings and it was only their third outing in the top-specification Fiesta.
"It was a difficult rally, but we've been improving a lot and learning a lot about how to drive these cars on this surface – because it's quite different from the R5 cars. The target before the rally was to be somewhere between fifth and eighth, and we're eighth so it's okay. But of course, I was hoping for a bit more. We just need to improve the driving and learn more about how to be fast in these conditions", Suninen commented.
Ogier lost the lead in the championship standings but did not lose his determination to fight
The five-time world champion did not hide his disappointment with what happened in Sweden.
"For years now I have been fighting for different rules regarding the starting order. In the end, this is a World Championship and everyone tries to do their best and take every chance that there is to win points", he explained.
"At least on the Power Stage, we had the chance to score some points. I would have preferred to have come here with a realistic chance of fighting for the win or even a podium, but that was not possible from the beginning of this weekend."
Training with fun this evening with my friend @skywalkteq ??#diekletterhalle StGallen pic.twitter.com/x3SYCOGEqv

— Sébastien Ogier (@SebOgier) February 21, 2018
Elfyn Evans and Daniel Barritt endured another luckless weekend
Picking up a puncture through the early stages, the pairing was forced into the same position as the championship leaders – clearing a line through the snow and missing out on the faster conditions behind.
"It's probably fair to say that we were struggling for some pace through the early stages, but then when the puncture set us back we didn't have any chance with the road position. We just need to put it behind us and look forward to Mexico", Evans said.