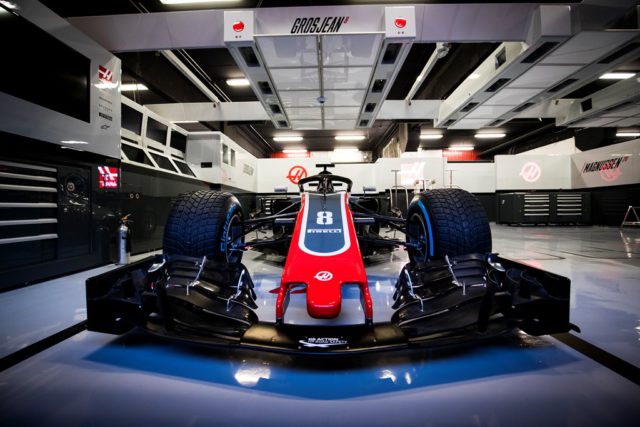 Romain Grosjean speaks about his preparation during the winter, welcoming his third child and expectations for the pre-season practices in his advance for the Catalunya test.
You and your wife, Marion, welcomed your third child, Camille, back on Dec. 31. As a result, has there been any "off" in your offseason?
"There hasn't been a proper holiday, but we've had a very good time at home. We're fortunate that we live in a beautiful place in Switzerland. I can go up the mountains and I can ski and train. So, no real time off, but some really good time at home, which is as good, if not better."
Have you found that fatherhood has made you a better racecar driver as a result of being more prepared and organized?
"Kids help you to put things into perspective, in general. Whenever you have a good or a bad weekend, it doesn't matter, as you just think about them and when you come back home, you're always a superhero."
Raising small children, especially newborns, takes a lot of time. How have you balanced what you need to do as a husband and father with your preparation for the upcoming season?
"A new baby is always a new challenge in the house. We've got a good balance and I've got all the time I need to get ready and prepared for the season."
Super Sacha has drawn his first @F1 and it looks amazing ! I'm incredibly proud ❤️❤️❤️ pic.twitter.com/Yu4MBLgpi6

— Romain Grosjean (@RGrosjean) February 15, 2018
You participated in a cross-country ski race, La Transjurassienne, in the French Jura Mountains for the second straight year. How did you do and can you describe the experience?
"It was tough. It's a really good event with a lot of people taking part – I think it was around 4,000 people. I was a bit too much of a Formula One driver. I started too quick. I was good for two-and-a-half hours, and then the last hour and a bit was a lot trickier. I didn't get my nutrition right. This is obviously something we don't have in Formula One because the race is only an hour-and-a-half to two hours, and we can't eat in the car anyway. It was interesting. My fitness level is higher than it's ever been and I'm ready to enter again next year and finish on a better note."
"It looks great. I like the colours. I like the fact that we're back to something a bit more similar to what we had in 2016, which is very much the Haas Automation identity. The car itself, it's pretty much the same philosophy. It looks like last year's in some places, but there's much more work behind the scenes. Everything's been better prepared and I can't wait to get out there and drive it."
It's your third year with Haas F1 Team and your second year with Kevin Magnussen as your teammate. How helpful is to have that continuity as Haas F1 Team continues to mature?
"It's key for the team to be able to keep growing. Having the same driver line-up always helps. It's what we need right now. There's a lot of work still to be done to improve and to grow as a big team. I'm very much looking forward to working with everyone again and going for it."
Change is a constant in Formula One, and a change at testing this year is a repaved circuit. How will Barcelona's new surface affect your learning curve, specifically when it comes to tires?
"We just need to go out there and see what it does for us. We'll see how the car behaves, along with the tires. We're doing some simulator work, but every time we need to get that correlation with the track. It's going to be very interesting to get out there on track and see how the car goes, then go back on the simulator and see how we can improve the car for the early part of the season."
What is your measure of a successful test? Mileage? Speed? Reliability? Consistency? All of the above?
"It's a little bit of everything. It's mileage, it's speed and it's consistency, which is what you need in a race. You need to be reliable and you need to be fast. You need to have a car that allows you to go fast every single lap. It's difficult to pick just one thing."
.@RGrosjean heads out to give the @Haas_Automation #VF18 its first run around @Circuitcat_eng. #HaasF1 #F1 ??? pic.twitter.com/EqF0tMWF8m

— Haas F1 Team (@HaasF1Team) February 23, 2018
When the test is over, where do you want to be?
"Ideally, within a second of the fastest car on the track. Even though testing is always a little unclear, you never know what people are doing with fuel loads and tires and so on. We generally have a pretty good idea of where we are. I want to be happy with the car and I want to be able to know where we can improve. I want a good early setup for Melbourne."
It's called winter testing for a reason, and that's because it's usually cold. Australia, home of the season opener, is typically warm. What can you take from Barcelona and apply to Australia?
"Well, that's the difficult one and probably where we can work a lot with the simulator. First, we need reliability, but that's the same thing for every track. Then we need performance. If the car is feeling good and we know how to drive it, then we should be able to apply that to different tracks. We also now have the data from the previous years. We need to find a good setup to take to Australia."
With the new regulations last year that resulted in much faster speeds, how did it change the way you make a lap around Barcelona?
"I think we all got used to how the new-generation cars are. Now they just feel like normal speed. Barcelona will just be Barcelona. Obviously, the car will be a bit faster because we've normally got more downforce in the second year of a new generation. It's not like it's going to be a big change though like it was from 2016 to 2017."