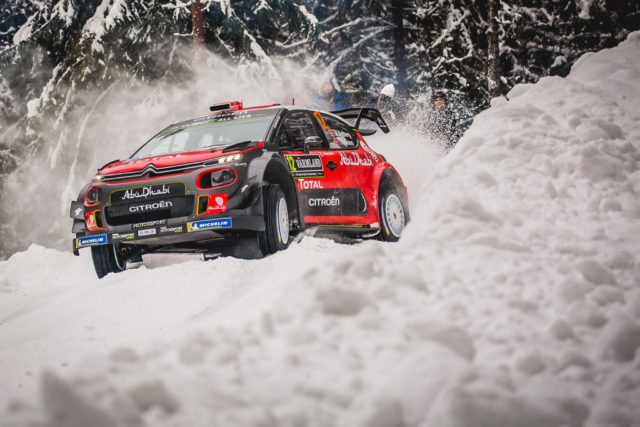 With two stage wins secured by Craig Breen, Citroen was in impressive form on Friday's opening leg. With Craig Breen – Scott Martin fourth on Friday evening and Mads Østberg – Torstein Eriksen fifth overall, the team is still fighting for at least one podium spot, whilst Kris Meeke – Paul Nagle ended the day in tenth place.
Breen and Østberg took full advantage of their favourable starting order (9th and 12th respectively), with Craig just five tenths off the podium and Mads 1.1s back. And their performance today also means that they are guaranteed to get a good road position for tomorrow's leg. Perfectly at one with his C3 WRC, Breen even managed to claim two consecutive stage wins (SS6 and SS7), whilst Østberg, still getting to grips with his car, enjoyed an impressive return with the team as he collected three third fastest times (SS2, SS4 and SS7).
"I knew that I had a good road position today, but I'm really pleased that it went so well for me", Breen said
"My C3 WRC worked really well. Tomorrow will be an interesting day! We'll have to see what happens with the weather because there was already quite a lot of gravel showing through the ice this afternoon. When we did the recce, tomorrow's stages were in poorer condition than those we did today, so the conditions may be more difficult on the second pass."
End of day 2 here @RallySweden, and its been a good day! 2 fastest overall times and we are a mere 0.5 of a second off the podium! #WRC pic.twitter.com/6vBuWq8qeQ

— Craig Breen (@Craig_Breen) February 16, 2018
Østberg explained the day was not easy for him but he was happy
"When we got here, I didn't expect to be on the pace so quickly. This afternoon, the road conditions were really different to those we had in testing, and my set-up wasn't ideal. But I fought hard and I also learned a lot about the C3 WRC. I have high hopes that this will help me to be more competitive for the rest of the rally. Especially as I have always been more comfortable on the Swedish stages than the ones in Norway, so I can't wait to get back out there tomorrow!", he added.
"Right now I feel a bit limited due to lack of experience, but were trying our best, and we find ourselves in a podium fight! So all in all, a good day at the office" #WRC #fightingviking pic.twitter.com/LuGZ4eltqH

— Mads Østberg (@MadsOstberg) February 16, 2018
Citroen Racing Team Principal Pierre Budar congratulated Breen on his performance
"Obviously, he made the most of his road position, but he still had to go out there and set the times! It shows that he was confident with the C3 WRC, and I hope he can maintain this pace tomorrow. Mads also did very well, given the limited time he has had in the car. We're going to keep working together so that his confidence grows even more. Kris, on the other hand, was hampered by his position in the starting order. Short of confidence, he didn't tempt fate by pushing. Instead, he stuck to his plan and he hopes to make it to the end of the rally and collect some good points", Budar commented.