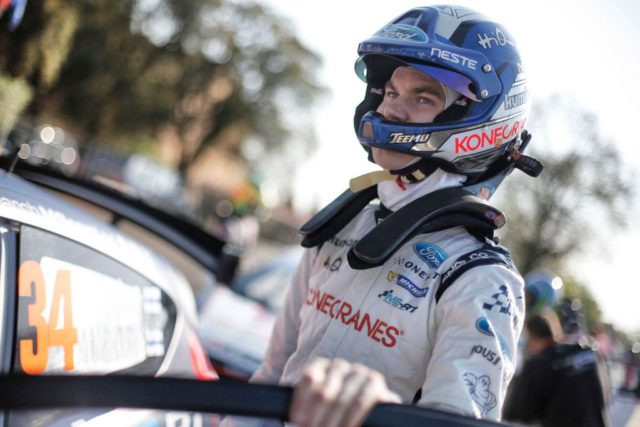 Teemu Suninen and Mikko Markkula will drive for M-Sport in 8 rounds of the 2018 World Rally Championship (WRC).
With his Fiesta in essentially the same livery as teammates Sébastien Ogier and Elfyn Evans, Suninen will form a part of the manufacturer team at Rally Sweden, Rally Mexico, Rally de Portugal, Rally Italia Sardegna, Rally Finland, the Rally of Turkey, Wales Rally GB and Rally de España.
In addition, the Finn will also take to the wheel of the Ford Fiesta R5 as part of the FIA World Rally Championship's premier support series – WRC 2 – at Rallye Monte-Carlo and Rallye Deutschland.
Following an impressive debut at the highest level of competition in 2017, Suninen is thoroughly deserving of further WRC outings and was the clear choice to assist M-Sport in the defence of their manufacturer title.
The Finn made his top-flight debut at last year's Rally Poland. He secured an impressive sixth place finish on his competitive debut. Suninen also had no hesitation in claiming his first stage victory – setting the fastest time through the Polish event's seventh speed test.
Next time out at Rally Finland, he went even further – claiming a further three fastest stage times and challenging for a podium position on only his second outing with the Ford Fiesta WRC.
With eight events behind the wheel of the top-specification Fiesta in 2018, Suninen will have plenty of opportunities to prove his potential once more – and could well be knocking on the door of a maiden WRC podium.
Teemu Suninen said:
"This will be a nice season for us and I am very happy about my programme for 2018. The highlight will, of course, be the eight rallies with the Ford Fiesta WRC as part of the M-Sport Ford World Rally Team where I think we have a good opportunity to prove our potential."
"The plan is to start those rallies in a relaxed state of mind. There's no now or never situation or anything like that and no need to focus on our position in the drivers' championship. We'll just take it rally by rally and make the most of every event we do."
"We need to ensure that we make the most of this opportunity, and that is exactly what we plan to do. I'm really looking forward to getting back behind the wheel of a top-specification world rally car and aim to learn as much as I can."
Team Principal Malcolm Wilson said:
"There is no doubting Teemu's potential and I am sure that he will prove himself a very valuable member of our team this year. More than a few heads were turned when he got behind the wheel of the Ford Fiesta WRC for the first time last year. To secure a stage win on your debut outing is one thing, but to be challenging for a podium on your second is quite another."
"There is no denying that Teemu is a very talented young driver and a future rally winner. With eight rallies this year he'll get the vital experience to develop his career at this level. And I would not be at all be surprised if we saw him challenging for a podium or two."
We had a great time @Autosport_Show this year. Who went along to take a look at the 2018 EcoBoost-powered Ford Fiesta WRC in person? #WRC #ASI18 #FordPerformance pic.twitter.com/rYHn4i8Jun

— M-Sport (@MSportLtd) January 14, 2018