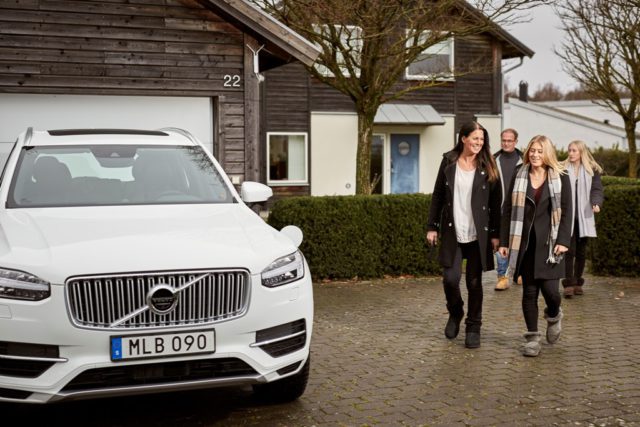 Volvo Cars started developing its autonomous drive cars with help from Swedish families who will test its cars on the public roads of Gothenburg and feed back their impressions to Volvo Cars engineers.
The first two families, the Hains and the Simonovskis are from the Gothenburg area. They have now received the Volvo XC90 premium SUVs. With it, they will support the Drive Me project. Three more families will follow early next year. And over the next four years, up to 100 people will work in Drive Me.
Both families will contribute to Drive Me with invaluable data. They will allow engineers at the company to monitor their everyday use and interaction with the car. This will happen as they drive to work, bring the kids to school or go shopping for groceries.
Volvo Cars plan to have a fully autonomous car commercially available by 2021. The data from Drive Me will play a crucial role in their development.
Volvo Cars started developing its autonomous drive cars with help from Swedish families
"We get the chance to be part of developing technology that will one day save lives", said Alex Hain, 45 years old.
Drive Me will involve real customers testing the different stages of driver-assisted and eventually fully autonomous technology.
"Drive Me is an important research project for Volvo Cars," said Henrik Green, Senior Vice President for the company's R&D department. "We expect to learn a lot from engaging these families. And we will use their experiences to shape the development of our autonomous driving technology. [The aim is] by 2021 to offer our customers a fully autonomous car."
The Hains and the Simonovskis have received Volvo XC90s fitted with Volvo's latest driver-assistance technology
The cars also have an array of cameras and sensors. They will monitor the people's behaviour and provide the car with information on its surroundings.
It is the customer-focused approach that sets the Drive Me project apart from other autonomous driving experiments. Volvo does not rely purely on the research of its own engineers. Instead, Volvo aims to collect feedback and inputs from real customers using these autonomous cars in their everyday lives.
By choosing this customer-focused approach, Volvo aims to further fine-tune its autonomous driving technologies. The company also wants to make its offering as relevant as possible to customers ahead of a commercial introduction.
"This is an important milestone for the Drive Me project," said Erik Coelingh, Senior Technical Leader Active Safety at Volvo Cars.
"Customers look at their cars differently than us engineers. So we are looking forward to learn how they use these cars in their daily lives and what feedback they will give us."