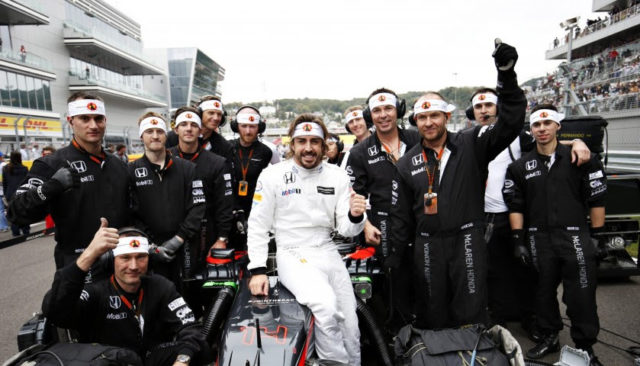 Two-time world champion Fernando Alonso is one of the most popular drivers in Formula 1. While circumstances have prevented him from adding to his tally of 32 victories and 97 podiums in the past few seasons, he has used his increasing experience to frequently extract the maximum from his car and put on a show for the fans.
In 2015, Alonso celebrated his 250th grand prix in F1
He has now donated an exclusive item from that special occasion for auction on CharityStars.com: the very race suit he wore during that race, signed with his autograph.
The race suit is from the 2015 Russian Grand Prix in Sochi, where he finished the race in 11th place.
The auction will raise funds for Croce Viola, a volunteer ambulance association based in Milan, Italy and founded in 1949
It provides much-needed emergency services to the entire city. But the organization is entirely reliant on the goodwill of 120 volunteers. They give up their time to provide this vital service. And it happens 24 hours a day, every day of the year.
Croce Viola also delivers comprehensive first aid training programs to both the public and to companies. Recently it put together an innovative campaign to promote the importance of first aid among primary school children.
One of Croce Viola's volunteers in his rare evenings of spare time is Pirelli's head of car racing Mario Isola, who is present at every grand prix. "This is a fantastic prize, and I would really like to urge as many people as possible to bid," said Isola.
"It's a great opportunity to own a unique F1 souvenir that will only go up in value. But also to benefit a really deserving charity at the same time. All of us who work at Croce Viola are unpaid volunteers from many different walks of life. And it is a privilege to see how big a difference our intervention can make to peoples' lives. The only source of income for Croce Viola is charitable donations. And so Fernando was very happy to donate his suit to us in the hope that it could raise some money towards buying a much-needed new ambulance."
More than 30,000 hours of emergency assistance have been volunteered per year, saving lives as well as supplying essential patient transportation services and medical cover. ?
And now Croce Viola has in auction a very nice piece for motorsport fanshttps://t.co/ggrQZu7Oh2

— Fernando Alonso (@alo_oficial) December 9, 2017