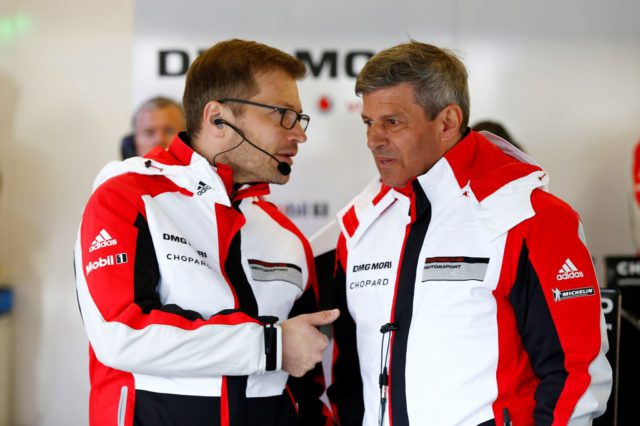 For half a decade, almost everything in the lives of the Porsche LMP Team members revolved around the Porsche 919 Hybrid and the company's successful return to the top category at the 24 Hours of Le Mans. On November 18, the most advanced hybrid racing car of its time took to the track for the last time in the FIA World Endurance Championship (WEC). Representing the team, behind closed garage doors, Fritz Enzinger, Vice President LMP1 and Team Principal Andreas Seidl are looking back over an era.
At which points your nerves were on the edge?
FE: "I don't get really nervous. I suppose it's just not in my nature. The more difficult a situation gets, the calmer I become. This has always been the case, and that is good for the mood of the team. If things get hairy or something goes wrong, there will, of course, be a lot of people focusing on my reaction. If I remain calm, this helps everyone to concentrate. I think a hectic pit with frantic people is horrendous."
"In our team, we never yelled and we did away with pointless allocation of blame back in the first development phase. During the early tests, there were strong vibrations coming from the combustion engine. Because of this, the handling was, of course, terrible, but it wasn't the fault of the lads from the chassis development team. They had to switch from aluminium to steel so that we could drive at all. During this time, we all learned a lot about personal relationships and understood that we needed to be able to solve problems together if we were to move forward."
AS: "I try to tackle each subject analytically and in co-operation with the team in order to find solutions. However, the fact that my nerves were never on edge during this project was also due to the fact that luckily our programme was a continuous success story."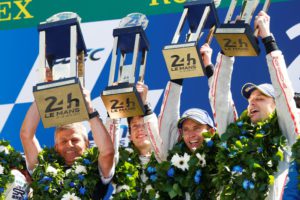 How many times did you cry tears of joy?
FE: "At least three times. Winning at Le Mans is such a special thing. And to achieve it with Porsche adds an extra dimension because it impacts the entire company. When we returned home, Porsche colleagues that I didn't even know were congratulating me and hugging me."
AS: "I tend to save my emotions until I get home. But I just couldn't hold it in those times that we crossed the finish line to win in Le Mans. There is this two-week event, with all the pressure that builds up beforehand and finally the race itself, which is so exhausting both physically and mentally – and then when you see the chequered flag and win for the factory with a Porsche, it is an unparalleled feeling. In that moment, it feels as though a great weight has suddenly been lifted. To see the joy and relief on the faces of the team is indescribable. I know that I will never be able to top this experience, no matter what. I am grateful every day for the experience."
Which driver performance has impressed you the most?
FE: "I couldn't reduce it to a single situation. All ten LMP drivers have greatly impressed me many times over, regardless of the result. For example, in Fuji in 2017, we didn't win. But it was terrific – the way Earl Bamber drove during his first WEC start stint, with a car that led the World Championship. Under this pressure, and in the most adverse conditions on a wet track, he was able to navigate the track in the 919 with such speed and control that he built up a twelve-second lead. We really had a knack for selecting good drivers."
AS: "Instinctively the performance from the boys in the third car in Le Mans in 2015 impressed me a lot as they were pretty new to the task and yet they won. But on the other hand, it wasn't surprising, because we chose three professionals after a tough selection process and gave them the same levels of preparation as the regular drivers right from the outset. So why would they be slower? Throughout the years, we always had the luxury of having the best and most balanced driver line-up. The error rate from the drivers was extremely low."
What was your first thought when Mark Webber crashed in the 2014 final race?
FE: "That was bad. It was the first time in this project when I really became aware of how dangerous these races can be. When Mark approached us during his time in Formula 1 and said he wanted to be part of our LMP programme, I could hardly believe it. But he was determined to help build the team and to immerse himself in this new field. We were so happy when he gave us a sign after the impact to let us know that he was reasonably okay!"
"That race in São Paulo was the one that moved me the most. The accident, the agonising uncertainty, the relief and then minutes later the first victory by the other car. At that point, an enormous pressure was lifted off me and certainly everyone else in the team. It confirmed that if the car makes it round the track, it is fast enough. Everything came together on the day. But it took Mark a while to recover afterwards."
AS: "My first thought was: Come on mate, get on the radio and let us know you're there! Fortunately, Mark did this in a very quiet voice. In such a situation we too have only what is shown on TV. Seconds feel like minutes. At the same time, we are responsible for the second car and ask ourselves if a technical failure might have been the reason and perhaps could put the other driver in danger. Driver safety always is the highest priority, but you also cannot unnecessarily retire a car. To make such safety-critical decision instantly with limited information is the most difficult to do in the racing business."
Is there a driver who you would have liked to put in a Porsche 919 Hybrid?
FE: "Yes, Patrick Dempsey during a test. But it turned out that we couldn't give him enough time to properly get used to the car."
AS: "Basically, all of the best drivers from other top classes. Because I would like them to get into our 919 Hybrid and come back from their first lap with a grin on their face. This car is the ultimate driving machine. One that every racing driver enjoys from the moment they first feel the maximum acceleration of the hybrid system together with the combustion engine. And, of course, it was interesting for me to see the best drivers from other top classes compete against our drivers. That showed the high quality of our drivers."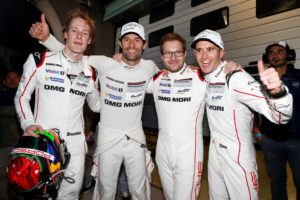 What was the most difficult decision you had to make?
FE: "I can't pick out a single decision, but rather a period. In the initial phase in 2012, so many different decisions had to be made in parallel. That in hindsight is quite amazing how many of them were correct."
AS: "My bravest decision was probably signing Earl Bamber. He came from the Porsche Supercup and had no prototype experience. This involved a certain risk. But he really impressed our senior race engineer and me during his first test with how quickly he got up to speed and how consistently he was able to drive a stint. We were convinced that he could do it. It also suited our project, taking risks when they also present a great chance of success."
"The most difficult decisions are always related to personnel. In a racing team, you experience many ups and downs that bring you closer together. You build strong relationships with your team members. Nevertheless, in the course of the project, I had to make several decisions relating to personnel that were hard for individuals, but right for team performance. Those decisions were the hardest for me. But the job of the team principal is not just collecting trophies and being popular."
How do you recall the first Le Mans race of 2014?
FE: "This race came far too early for us. We had had only a single simulation test, and with that, we never managed more than six or seven hours. The whole test operation only really worked correctly from December, after we had suppressed the vibrations. We had just two six-hour races behind us, and even those had not gone smoothly. The fact that we were in the lead at Le Mans after 20 hours raised hopes in the short term that were not reasonable. The powertrain and the transmission defects did not come as a surprise."
AS: "Yes, that race was definitely too early for us. We were unprepared in terms of durability for the 24 hours, nor were we operationally ready as a team to compete with the big players. We had stability problems. Our pit stops were bad compared to the benchmark and we also didn't have the speed. We were really lucky in the race, so it was deemed to be a partial success. Even though you couldn't and shouldn't realistically expect more in the first year of such a complex project, this race was of course below my standards."
#WEC – Some impression from #6hBahrain, the final race of the 2017 @FIAWEC season with the all new #911RSR performing great in #GTE-Pro. @PorscheNewsroom @PorscheNewsroom pic.twitter.com/ccbQPCCtiS

— Porsche Motorsport (@PorscheRaces) November 19, 2017