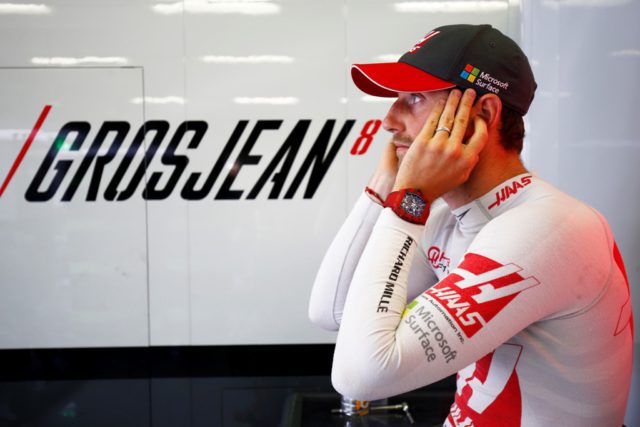 Romain Grosjean looks back to 2017 – the second Haas season in Formula 1 – and looks forward to the Abu Dhabi Grand prix.
Abu Dhabi is the season finale, and it's also the finale of Haas F1 Team's sophomore year. After having to race brand new racecars in back-to-back seasons under two sets of very different rules packages, how does this year compare to last year?
"It was much better. The car was faster, more fun to drive, more physical and more challenging, as well. Generally, the new generation of car was much more in line with what you'd expect for Formula One."
Were there any key learnings from last year that you applied to this year?
"I think Formula One is one of those sports where you can't train outside of racing. Every year is important, and every year brings more experience, so you get better and better."
Regardless of the outcome in the Abu Dhabi Grand Prix, Haas F1 Team will have surpassed its point tally from 2016 by 18 points. Are points scored the surest, most tangible examples of progress, or are there other elements of progress not everyone is able to see from the outside?
"There's much more than points. We've definitely made some good progress. We're still behind what we could potentially do, that's why the winter is going to be important for us to get everything ready for next season. When we started 2017, we were much stronger than at the start of 2016. I'm looking forward to seeing where we are in 2018 and making the big steps I believe we can."
Prior to 2017, there were those who proclaimed that Haas F1 Team's second season would be harder than its first. Was this accurate, or were the challenges just different?
"The second season is always going to be harder than the first one, but I think we've done very well. We started the year super strong. We then went down a little bit, which we need to address for the future. I think for as challenging a season as it was going to be, we've done super well."
What were the team's challenges this year?
"It was keeping the development rate going and understanding the new car. Clearly, we knew starting the season that the car from Melbourne would be fairly far from the one in Abu Dhabi. We just had to keep the development going and find the right areas to improve the car."
What were the team's strengths?
"There are a lot of them, but I think the atmosphere, and the team spirit we have, is the key to the team."
The way Haas F1 Team is set up is unorthodox, at least by Formula One standards. Does the team's success in its second year validate Haas F1 Team's approach?
"I think so. Of course, we still haven't reached our limitation with what we can do with our setup because I'm sure we can be stronger and be up there. It works very well. There are a few adjustments to be made year-after-year, which Gene (Haas) and Guenther (Steiner) are doing. I'm sure the team can be very successful."
While the drivers and constructors championships have been decided, the midfield battle is still very much alive heading into Abu Dhabi. Haas F1 Team is currently eighth in the constructors' standings, with seventh just two points out and sixth only six points away. Is bettering your point standing still possible?
"Of course. As long as the last checkered flag isn't down, you can always improve. We're still very much in the match with the guys in front of us, and they've been struggling a little bit recently. We're going to give it our all in Abu Dhabi and just play it like it's the world championship."
Is there a particular moment from this season that stands out the most for you?
"We've had some really good races. I'd say our double-points finish in Monaco was nice, and again in Japan, which was super good. The qualifying in Australia, also – we didn't know what to expect and we got sixth."
When the season starts, Abu Dhabi seems very far away, yet here we are. Has the season gone by quickly?
"It flies by. I remember going on the plane to Australia like it was yesterday. Once you're into the season, it just goes. You don't realize how fast it's going."
Yas Marina Circuit is a showplace. What makes it stand out on the Formula One schedule?
"It's the show, the overall race view, the fact you start in the day and finish in the night, and the fact it's been the finale for a few years now. It's a very nice venue with superb facilities."
With the race beginning in the late afternoon and ending at night, how much does the track change as the air and track temperatures cool and, in turn, how does that affect tire management?
"It does change a little bit, and that's why FP2 is very important in Abu Dhabi. That's the only session where you're going to get the same conditions as qualifying and the race. You do need to work there. It does make a big difference if it's sunny or dark."
Yas Marina Circuit consists of three distinct sectors. How do you find a setup that suits all aspects of the track, or do you have to compromise in one section to take full advantage of another section?
"It's always about compromise and finding the best setup to go faster. You just have to find where you can find the lap time. That's the key. You're never going to be perfect in every corner, but you can try to be as good as you can over the lap."
Yas Marina is a smooth track and it seems that it takes a while for the track to rubber in. As the grip level increases over the duration of the race weekend, how do you determine where the limit is from Friday to Saturday to Sunday?
"The most difficult thing in Abu Dhabi are the conditions between FP1 and FP2. You only actually have one session that is representative of the race and qualifying, and that's FP2. FP1 and FP3 are warm, therefore you have an hour-and-a-half to determine the best setup."
Do you have any milestones or moments from your junior career that you enjoyed at Abu Dhabi?
"I won there in GT1 (in 2010 with Matech Competition). That was my first-ever GT World Championship start, and the first race with that team, and we won. It was a pretty good moment taking the win and leading the championship."
What is your favourite part of Yas Marina Circuit?
"I quite like the first part with turns one, two and three. It can be fun."
Describe a lap around Yas Marina Circuit.
"Straight line to the first corner – it comes pretty quickly – a 90-degree left-hand corner, normally in fourth gear. Turns two and three are then flat out. You go down the hill, braking into (turn) six – very tricky braking turning into six, then straight away into (turn) seven. You need to be well positioned for the hairpin going down the back straight. It's tricky to get the car to turn. Long straight line, big braking for the chicane, and again you need to be well positioned between the left- and right-hand side corners."
"Then it's another straight line on to (turns) 11, 12 and 13. It's a triple chicane and as soon as you exit that part you go flat out then brake for turn 14, which is a 90-degree left-hand side corner. Flat out again into (turns) 16 and 17, two right-hand side corners flat out. As soon as you go out of (turn) 17 you have to brake again for (turns) 18. (Turns) 19 and 20, you're going under the hotel, with a tricky exit out of (turn) 20. The second-to-last-corner is good. It's high speed in fourth or fifth gear. Then the last corner is very tricky. It's very wide on the entry phase with the pit lane on the right-hand side. It's not easy to find a line. Then you go as early as you can on the power to finish the lap."
As you head into the offseason, how much "off" is there, or is that just a misnomer because preseason testing tends to arrive quickly?
"There'll be a little bit of rest, but I've got a few challenges coming up. I'm doing a cross-country race, then another running race after the season's done. I'll keep myself busy. I love doing sport. I love playing with the kids and, of course, the baby is due in early January. That's going to keep me on my toes. I will take some time off, and the diet will be a little less strict than it is during the season, but on the other hand, training is super important and I love it."
As we look ahead to 2018, how helpful is that for the first time in two years, you're able to develop a car based on the car you've raced this year?
"It's going to be interesting and important for us to get it right. Now's the time to sit down with all the engineers, make sure we're all on the same page, and agree on what we want to do."
???? super happy for you my friend! https://t.co/2GmhOqUb2e

— Romain Grosjean (@RGrosjean) November 16, 2017