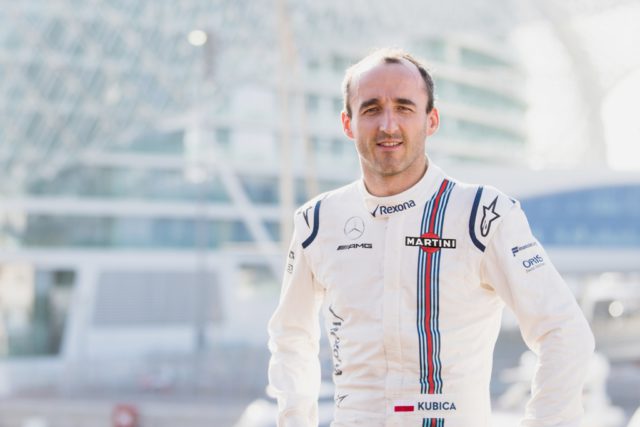 Robert Kubica will be reserve and development driver of the Williams team for the 2018 Formula One season. Earlier the team announced that Sergey Sirotkin will be Lance Stroll's teammate during the new season.
Robert's return to Formula One included several tests with Williams over the second half of last year, as well as the Abu Dhabi Pirelli tyre test at the conclusion of the 2017 season. He will have a particularly active role within the team this year. It will include participation in the Barcelona pre-season testing, in-season testing. Kubica will also take part in a number of race weekend practice sessions.
Robert's experience and knowledge will prove invaluable to our technical group in the development of FW41's car performance. He will be able to assist the race drivers and engineers deliver better qualifying and race performance. And of course, he will be available to stand-in as race driver if required. He will also support the team's media and sponsorship support programme.
Robert Kubica said:
"I'm extremely happy to be joining the Williams team as its official Reserve and Development Driver this season. I feel in the best physical shape that I have ever been. But it has taken a lot of work to get to where I am now. So I'd like to thank Williams for the opportunities they have given me so far, and for putting their faith in me with this appointment."
"I have enjoyed being back in the Formula One paddock over these past few months. Now I look forward to working with the Williams technical team, both at the factory and at the track. Having driven both the FW36 and the FW40, I'm looking forward to seeing how the FW41 measures up on the track and working with the team to ensure we can maximise the performance of the car. My ultimate goal remains to race again in Formula One and this is another important step in that direction."
Claire Williams, Deputy Team Principal, said:
"I am delighted to announce that Robert will be joining Williams as our Reserve and Development Driver for the 2018 season. All of us at Williams have been immensely impressed at what he has achieved. And it is a great credit to his strength of character and commitment to return to Formula One."
Paddy Lowe, Chief Technical Officer, added:
"First and foremost, we'd like to congratulate Robert on what he has achieved so far. To overcome his injuries, return to fitness, and drive a Formula One car again is a remarkable achievement and one that few considered possible. We anticipate Robert will make a strong technical contribution to the team. He will use his wealth of experience in track testing, simulator work, and support to the race drivers and engineers at every race. He is a driver I have admired for many years. And I am personally very happy to be working with him towards our 2018 Championship."