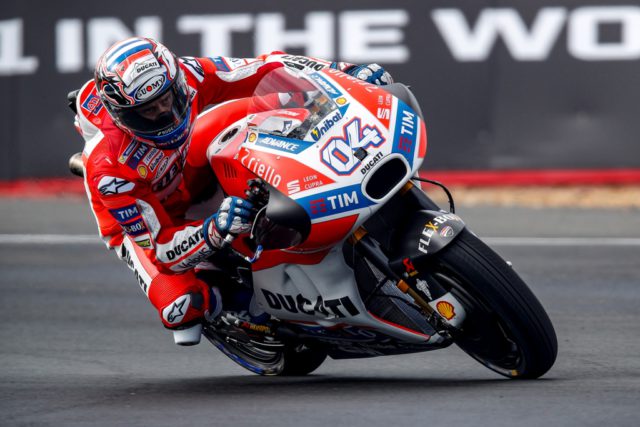 Eight months and seventeen races since the championship got underway in March at the Losail circuit in Qatar, the MotoGP teams and riders have arrived in Spain for the final round of the season. That is the Gran Premio de la Comunitat Valenciana – a.k.a. the Valencia Grand Prix – at the Ricardo Tormo circuit. It will be a very important weekend for the Ducati Team, which comes off the back of a splendid 1-2 win for Andrea Dovizioso and Jorge Lorenzo at Sepang.
The Italian is now the only man who can stop Marquez from taking the title. Twenty-one points separate 'DesmoDovi' from the Spanish champion, which means that to take the world title, Andrea needs to win the race with Marquez finishing twelfth or lower. In any case, 2017 has been an extraordinary season for Dovizioso, with six wins to his name plus one second and one third place.
Dovizioso has taken part in nine MotoGP races at Valencia, with his best result being a third place in 2011, while last year he finished the race in seventh place after starting from the second row.
The Ducati Team has twice won in MotoGP at Valencia, with Troy Bayliss in 2006 and Casey Stoner in 2008.
Andrea Dovizioso
"We come to Valencia with a big gap in the points from Marquez and on a track where he goes very well, so we know it's going to be tough. The only strategy for me, with this gap, is to try and win and then see where my rival finishes. In this period we are going strongly at almost every track and so we have to try and approach this weekend with optimism, as we have always done recently."
Fabio is a top class technician, one of the best. Very experienced and discreet. We have worked together in the past and I trust him 100%.#StayLoyal#Dovi04 #DesmoDovi #AD04 #Ride04Real #ForzaDucati #MotoGP #Alpinestars #SuomyHelmets #RedBull #OldWildWest pic.twitter.com/xvAWaMR42U

— Andrea Dovizioso (@AndreaDovizioso) November 8, 2017
Jorge Lorenzo
"We have already arrived at the final race of the season, as always here at Valencia. A circuit where I have great memories and where I've scored some excellent results in the past. But it's also a track which has not always been favourable for our bike. It's a small track with very tight corners. But the world championship is still open for Andrea and nothing is impossible in this last race. It'll be a great season finale. And I'll give my all as always, to finish my first year in Ducati with the best possible result."