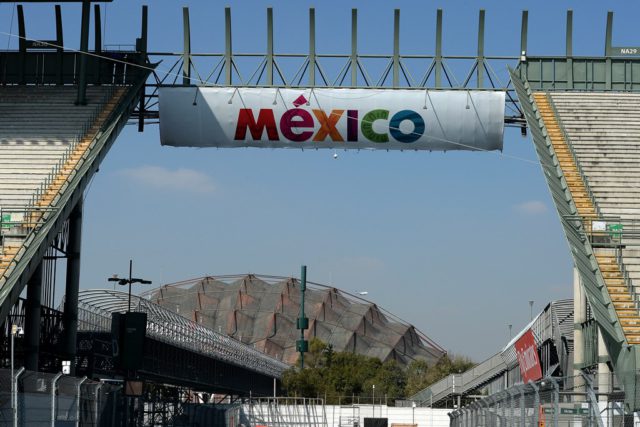 The Autódromo Hermanos Rodríguez provides car and driver with a unique test. Situated at over 2200m above sea level, it's the highest circuit on the Formula 1 calendar. Top speed will be high due to the high altitude and thinner air with less resistance on the car. Turns 13-15 features the iconic stadium section of the course as the track pierces through the split grandstand providing spectators with an excellent viewing point.
Power Unit Notes
The Autódromo Hermanos Rodríguez is a medium to high-speed track. The average speed is around 190kph, comparable to the previous event in Austin.
The top speed is very high, increased by the high altitude of Mexico City: at altitude, the air is thinner and there is less resistance to the car. To give grip in the corners, cars will run similar downforce levels to Budapest and Singapore, but the downforce effective level produced will be less than Monza.
At an altitude in excess of 2,200m – or just under half the height of Mont Blanc the circuit is by far the highest point of the season. By comparison, Sao Paulo is just 800m. In the normally aspirated era, this would have meant a power output some 22% less than normal, but a turbocharged engine will produce the same power as a sea-level event such as Abu Dhabi. To do this, the turbo spins at a higher rate to input more oxygen into the ICE. To compare: the turbo will spin some 8% more in Mexico than in Abu Dhabi.
Fuel consumption over one lap is quite low so energy recovery is less critical in Mexico than at other circuits.
In Numbers
14 – Mexico is the 14th largest country in the world
2 – The Volcano Rabbit is the 2nd smallest Rabbit in the world and lives near Mexican volcanoes
100,000 – Mexico City has the largest taxi fleet in the world with 100,000 running every day
The Mexican Grand prix
Formula 1 Gran Premio De Mexico 2017
Circuit name Autódromo Hermanos Rodríguez
First race 1963
Previous winners
2016 Lewis Hamilton, 71 laps, 1:40:31.402s
2015 Nico Rosberg
1992 Nigel Mansell
History lesson Mexico's passion for Formula 1 began with the Rodriguez brothers in the early '60s. Pedro and Ricardo Rodriguez both raced in F1 and generated a huge following back home, which led to the inaugural World Championship Mexican Grand Prix in 1963. The race at the Magdalena Sports City circuit stayed on the calendar until 1979, before returning in '86 for seven years at the re-named Autódromo Hermanos Rodríguez. The race then reappeared on the F1 calendar in 2015
Travel
City Mexico City
Time zone BST-6/CET-7
Population 8.8 million
Getting there The back-to-back nature of the United States and Mexican Grands Prix means the pre-set-up crew arrive in Mexico while the team is racing in Austin. An F1 charter flight carries the rest of the team from Austin to Mexico City on the Monday between the two events
Surprising fact Mexico City is built on what was formerly Lake Texcoco. The foundations are soft and the city is sinking by about four inches per year
Local speciality Mexican food is a gastronomic delight, wherever you are in the country. But nowhere do the food choices get more eclectic than in Mexico City, from the 11-course meals available at the St Regis hotel to the delicious street food available all over the city. One such dish, available from vendors on the Paseo de la Reforma, is Esquites. It's roasted corn, mayonnaise, cheese, hot pepper and lime, all layered in a takeaway cup
Weather The weather in Mexico City is often cloudy and humid at this time of year. The long-range weather forecast predicts temperatures of 22 degrees and a 30 percent chance of rain
Track
Track length 4.304km/2.674 miles (second-shortest track of the year – longest: Spa-Francorchamps, shortest: Monaco)
2016 pole position Lewis Hamilton, 1m18.704s
2016 fastest lap Daniel Ricciardo, 1m21.134s (lap 53)
Lap record 1:20.521s (Nico Rosberg, 2015)
Tyre choice Purple Ultrasoft, red Supersoft and yellow Soft – the ninth time this combination has been used in 2017
Distance to Turn One 800m/0.497 miles (longest of season)
Longest straight 1.314km/0.816 miles, on the approach to Turn One (longest of the season: Baku, 2.1km/1.305 miles)
Top speed 345km/h/214mph, on the approach to Turn One (fastest of season: Monza, 360km/h/224mph)
Full throttle 47 percent (highest of the season: Monza, 75 percent)
Brakewear High. There are 12 braking zones, three of which are heavy. But the thin air and resultant cooling issues make this a race of high attrition for the brakes
Fuel consumption 1.45kg per lap, which is low
ERS demands High. The combination of long straights and high altitude make this one of the hardest races of the year for the ERS
Gear changes 44 per lap/3,124 per race
Race
Laps 71 laps
Start time 13:00hrs local/19:00hrs GMT/20:00hrs CET
Grid advantage There is a slight grid advantage, where the racing line is located, but the lack of downforce is the greater issue for the drivers. The cars are power-limited for longer away from the line, which can spice things up on the long run down to Turn One
DRS There are two DRS zones, on the approaches to Turns One and Four
Don't put the kettle on… All of last year's podium finishers completed the race with two pitstops. A Virtual Safety Car period during the second pitstop window allowed Nico Rosberg to jump ahead of Daniel Ricciardo in second place in what was otherwise an uneventful strategic race. Although Pirelli is taking softer compounds to this year's race, the durability of the 2017 tyres means a one-stop race is likely, with cars pitting on or about lap 30
Pitlane length/Pitstops 650m/0.404 miles (longest of the season: Silverstone, 457m/0.283 miles). It takes 18s to make a stop
Safety Car likelihood 100 percent. Since Mexico reappeared on the Formula 1 calendar in 2015, the races have all been affected by a Safety Car or a Virtual Safety Car period. There's a high chance that we'll see another one this year
Watch out for… Argy-bargy through Turn Three. The first DRS zone along the pit straight will allow cars to close up and it's vital for the pursuing cars to remain close through Turn Three because the second DRS zone follows
The sights and sounds of Mexico City add to the fun of the #MexicoGP!

Have you been to the race? pic.twitter.com/Vnpbt7y6Nz

— Haas F1 Team (@HaasF1Team) October 24, 2017