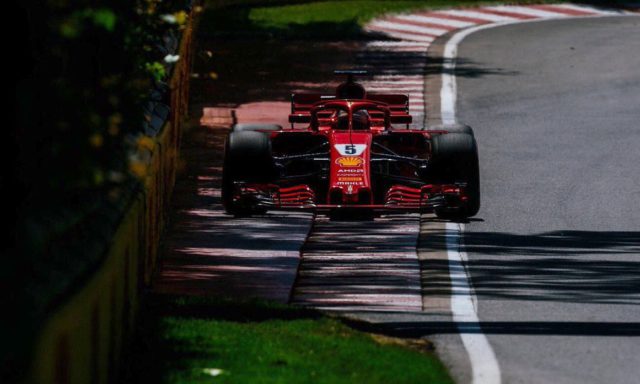 Sebastian Vettel claimed a commanding win in Montreal, controlling the Canadian Grand Prix from start to finish to replace Lewis Hamilton as championship leader. In doing so Vettel becomes only the fourth driver to win 50 Grands Prix.
Valtteri Bottas was the German's closest challenger in a quiet race, with Max Verstappen completing the podium. Verstappen closed late on to the tail of a fuel-saving Bottas, but he couldn't get within DRS range to launch an attack before the chequered flag was mistakenly flown a lap early.
Daniel Ricciardo took fourth, holding Räikkönen off around the inside of turn two Virage Senna on the opening lap to move into fifth and later jumping ahead of Lewis Hamilton at the pitstops.
Raikkonen dropped to sixth behind Hamilton, having been unable to build enough of a gap back to leapfrog the Mercedes.
Nico Hülkenberg and Carlos Sainz jumped Ocon during the opening stops, with a rear jack problem costing Ocon two crucial seconds and promoting the Renaults ahead of him into seventh and eighth.
Charles Leclerc impressed again to round out the top 10 behind Ocon, battling with Fernando Alonso for much of the race until the McLaren retired with exhaust problems on lap 42.
The race began in dramatic fashion, with a big impact between Brendon Hartley and Lance Stroll on the opening lap. This brings out the race's only safety car. A snap of oversteer for Stroll left Hartley nowhere to go and Hartley hit the wall. He interlocked with Stroll and the pair slid across the run-off missing the pack.
On the restart, Carlos Sainz and Sergio Pérez touched heading into Turn 1 sending Pérez sideways across the run-off and out of the top 10 to 14th. Pierre Gasly, who started 19th after changing his engine after qualifying, took 11th ahead of fellow back row-starter Romain Grosjean.
The Haas driver ran long on his first tyres reaching as high as eighth, hoping for a safety car that failed to materialise.
Pérez eventually claimed 13th ahead of Kevin Magnussen. Marcus Ericsson came home a lonely 15th for Sauber, with Stoffel Vandoorne 16th and Sergey Sirotkin the last of the runners at the flag.
? END OF RACE ?

TOP TEN
VET ?
BOT
VER
RIC
HAM
RAI
HUL
SAI
OCO
LEC#CanadianGP ?? #F1 pic.twitter.com/uBdYdjcvgi

— Formula 1 (@F1) June 10, 2018